Shoppable Content Report: A Retailer's Challenge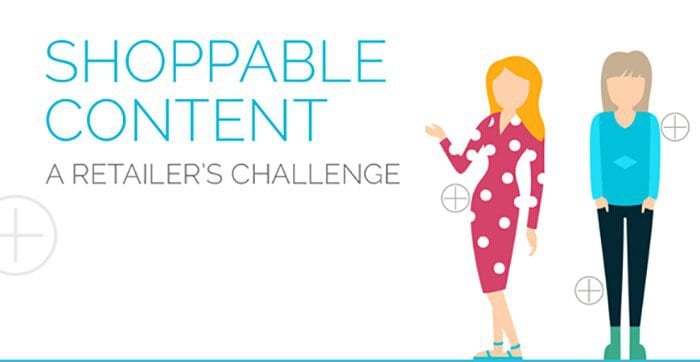 Sharing perspectives on the latest trends and tips to help eCommerce brands stay ahead to engage and drive revenue.
The ecommerce industry lacks the significant data on shoppable content that retailers need, and that makes it hard for them to make strategic decisions. So we decided to collect it ourselves, and the results are in - we received survey responses from brands like Williams-Sonoma, Desigual, New Balance, and QVC, to find out exactly how retailers are defining, creating, and scaling their content. And now, we're releasing the whitepaper so retailers can see where they rank. What is shoppable content? For the purpose of our survey, we define it as rich, clickable imagery and interactive media that's integrated with quick views, keeping the customer in the digital experience throughout the purchase process. After compiling and analyzing the results, we found three major takeaways:
1. Rich, interactive content is a priority for most retailers
When asked about the types of content currently on their sites, only 9% actually have shoppable content - but 53% want shoppable content. There's a huge gap between what retailers are capable of producing, and what they want to produce. Encouragingly, 81% of them have content within their top 5 strategic priorities for 2016, which means the content gap is will be lessened within the coming year. But why does this gap exist?
2. Retailers are looking for ways to overcome resource restraints
When asked what challenges they face when creating content, 36% of retailers said that it was simply too technically difficult to create. There was too much back and forth between IT and creative, leading 67% to say that it takes a week or more to get rich content online, and 19% said it takes more than three weeks. Unfortunately, this results in over half of respondents saying they can only produce 1-2 digital experiences monthly.
3. Shoppable Content is a game-changing ecommerce trend
We asked retailers what their biggest content focus of 2016 would be, and 47% said "making existing content more interactive and shoppable." 24% said procuring technology to get their content online fast, without IT. These statistics once again point to the bridging of the content gap, once again proving the power of content. One great example is UK retailer Marks & Spencer, who saw a 100% increase in revenue when they added shoppable content to their annual vacation digital campaign. Want to learn more? Read the full whitepaper here.