Creating B2B Content That Converts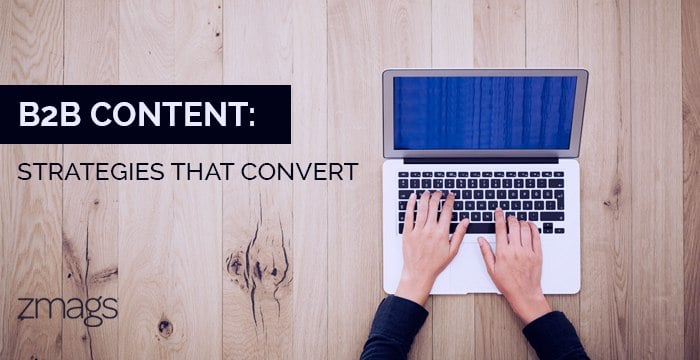 Sharing perspectives on the latest trends and tips to help eCommerce brands stay ahead to engage and drive revenue.
B2B Content Strategy
In retail marketing, B2B and B2C content are fundamentally different, and have different goals. At their most basic functions, B2C content should inspire consumers to purchase, and B2B content should inform businesses on why they should resell your products, and consumers on your brand strengths and where to find your products. But there are many key takeaways that B2B content producers can discover and use from successful B2C campaigns. After all, B2B buyers are still people; B2B doesn't really mean selling to a business, it means selling to a person at a business, so why not use the same triggers that appeal to their consumer side? When creating B2B content, you should keep in mind these three major goals:
Educate and inform
Raise brand awareness
Make it easy to convert
Educate and Inform
Educational content works effectively for B2C brands because it helps shoppers feel well informed and confident about making a purchase; similarly, educational content works for B2B content because it helps buyers feel well informed about your products and brand – an important factor if this is a business who will be reselling your products. As such, after leaving your B2B rich content page, a buyer should know exactly how your company provides value to their target market, and how you can solve their consumer's problems. This educational content can come in the form of video, or interactive landing pages. Just like with B2C, the more interactive the content, the more time a buyer will spend on the page – and the better the engagement metrics. A great example of educational B2B content is Natural Life's experience. With a step-by-step guide to merchandising their products, this experience makes it easy for product buyers to feel informed and take the next step.
Raise Brand Awareness
Ideally, B2C content focuses on immediate wish fulfillment; a retailer wants shoppers to want a blouse or sweater so much that they immediately add it to their cart. In contrast, B2B content should focus less on instant gratification, and more on generating long-term brand awareness and loyalty. The best way to do this is by establishing your company as a thought leader in your industry through editorial content. This content – be it a blog or interview –makes your company website a source for product information, and expert industry information as well. When this content is fresh and regularly updated, merchandisers as well as consumers will see your company as a consistent and reliable source. When creating this content, make sure this content is easily shared through social media through one-click tweets or Facebook posts.
Make It Easy to Convert
A B2C conversion is fairly straightforward; a shopper adds a product to their cart, provides their information, and checks out. It is an immediate source of revenue, and succeeds best when it is a seamless process. In retail, B2B conversion can come in two forms: the typical online purchase, or the starkly different form of attracting consumers to purchase your products from one of your resellers. To facilitate this, your content should always have an opportunity to convert – whether by making sure consumers can easily add large quantities of products to their cart in as few clicks as possible, by making it easy for these browsers to request more information, or by finding and linking to a store that sells your products. By keeping these conversion opportunities at the top of your content, and ensuring all device users can access them, shoppers can easily take the next step to purchase.