Online Shopping Trends|Shoppable Content
Cosmetics Marketing: Using Educational Content In Your Campaigns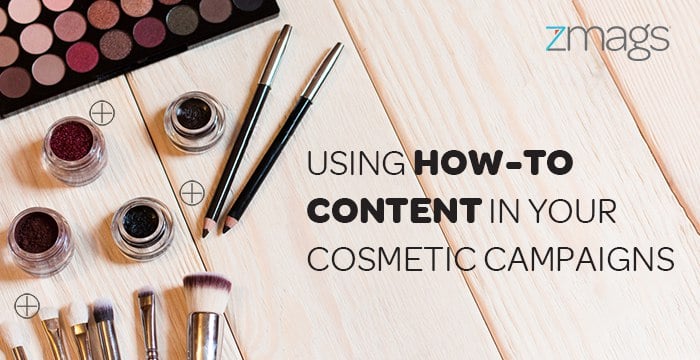 Sharing perspectives on the latest trends and tips to help eCommerce brands stay ahead to engage and drive revenue.
The Cosmetics Marketing Problem
Unlike fashion or footwear, the value of a cosmetic product isn't in what it looks like – it's in what it does. Which presents a problem to eCommerce marketers; your online customers can't physically test out several shades of foundation, or compare which eyeliner is perfect for that smoky eye look. You need to offer an experience that can deliver the next best thing, so a traditional product page just isn't going to cut it.
Why Invest In Educational Content?
Educational content is already a huge eCommerce trend for beauty brands. From shade finders, to video tutorials, to step-by-step "get the look guides," it provides the guidance customers need to make an informed purchase with confidence. You can't reach through the screen to test out that lipstick, but brands can provide gifs and videos showing just how it's applied, or how it looks on a range of skin tones. It takes the guessing out of their online purchase. Beyond the ability to help make purchase decisions, it's a powerful way to engage the shopper. They're learning and exploring while they're simultaneously exposed to your products. The value is extended beyond the product; it's in the information and the experience as well. This is a great, non-sales focused way to connect with customers in a distinctive and different way.
Content Example: Murad
This is a stellar example of educational content that is not specifically product-based. The focus is on the consumer, not on making the sale. In this lifestyle experience, shoppers can browse through instructional guidelines on how to nourish their skin and body. From discovering which veggies contain natural sun protection, to tips on how to stay active in the office, the experience is a genuinely useful guide to healthy living. Featuring this content allows Murad to expand their brand beyond skincare products. They're not just cleansers, serums, and moisturizers; they're a lifestyle brand as well, offering valuable information on wellness and health. Shoppers have more to explore on their site, meaning they're spending more time on page, and are more likely to make a purchase.
Content Example: Benefit Cosmetics
Benefit does a great job creating educational content that's fun and engaging. We love their brow quiz, allowing shoppers to determine just what products are right for them based on their unique needs and style. And it's shoppable as well; once you get your results, you can easily add them to cart without being sent to a tedious product grid. The experience makes it easy for shoppers to choose just what product is best for them, without having to go into a department store and try them all one by one. Benefit features tutorial videos as well, teaching shoppers how to recreate all the looks that are in the experience. Customers can find value in the experience beyond the products they purchase.