Agility in eCommerce — the Key to Unlocking Revenues for CMOs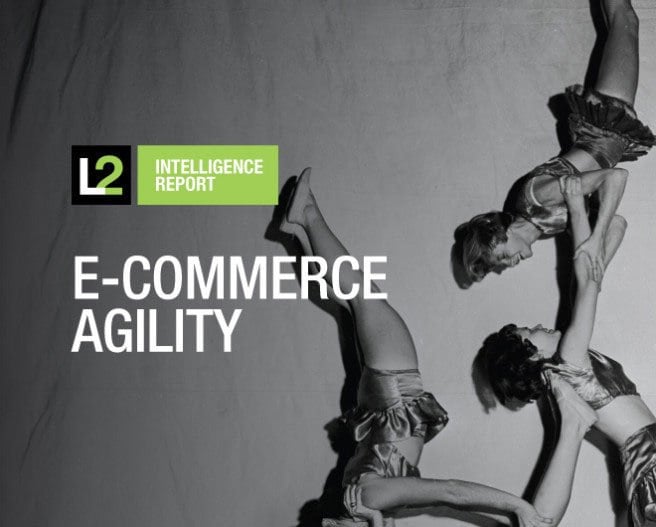 Sharing perspectives on the latest trends and tips to help eCommerce brands stay ahead to engage and drive revenue.
Last month, enterprise cloud commerce provider Demandware and business intelligence service L2 released the findings of a new joint report that examines the factors that most impact retailers' ability to be agile with their global e-commerce operations. The report, E-commerce Agility, benchmarked more than 80 top retail brands against their ability to proactively manage and execute against three critical strategies for commerce success.
Dynamic content creation — the frequency with which a brand is able to change site content to keep consumers engaged, impressed and returning on a regular basis.The primary element measured in the study was the number of landing page changes that were detected over a 12-week period, manifested through featured items, promotions and marketing campaigns.
Integration of new technologies — an assessment of how well a brand's site has been kept current and innovative across four dimensions of customer experience capabilities: content and commerce, search and navigation, customer service, and omni-channel.
Ease of new market entry — the pace of a brand's year-over-year rollout of retail store locations and country-specific websites in new geographies. Findings are tied back to e-commerce platforms and infrastructure.
After identifying agile firms, the study explores the correlation between platform architecture — on-premise (i.e., license), in-house (i.e., homegrown) and cloud (i.e., SaaS) — and financial performance as measured by sales, operating margin and earnings growth. There were three important conclusions:
Agility correlates to strong financial performance.The analysis reveals that retailers with high degrees of agility — based on the three critical strategies described above — have stronger financial performance. Cloud brands not only had the greatest sales and earnings growth but also the highest overall site rankings, driven by content, customer service and search. Of the 80+ companies evaluated, cloud solutions saw an average of 12 percent in annual sales growth over the past five years, as compared to 9 percent and 6 percent growth for on-premise and in-house solutions, respectively.
Agility levels are superior and sustained with cloud platforms.The study shows a direct correlation between agility levels and the type of e-commerce platform implemented. Retailers that use cloud commerce platforms exhibited higher degrees of agility, a stronger ability to provide engaging brand experiences, and broader international reach. Cloud-powered sites have remained at the vanguard of e-commerce innovation, outperforming all other site types.
Agility accelerates new market entry and expansion.International expansion presents a huge growth opportunity for retailers and has become a popular means for boosting returns and driving retailers' bottom lines. E-commerce is a low-risk way for brands to test new markets or complement existing store footprints. Brands that operate on a cloud platform have a competitive edge because they are able to leverage ready-built infrastructure and technology integrations to launch new sites more quickly and are able to strike the perfect balance between brand control and localized merchandising.
The message is clear: Agility in e-commerce is the key to unlocking profits, and that agility correlates directly with the type of platform architecture that any given retailer is using. SaaS wins. At the same time, for retail marketers, agility means being able to create promotions, generate and deploy digital content, react to seasonal changes or changes in inventory, run specific campaigns, etc. in rapid fashion — to provide instant digital gratification. The reality for most is quite different. Rewind to the first of the agile criteria above — dynamic content creation — the frequency with which a brand is able to change site content to keep consumers engaged, impressed and returning on a regular basis. Typically, marketers are challenged by time. There are long implementation cycles where it's not uncommon for campaigns or even simple content updates to take weeks, even months, from ideation to publishing as marketers work back and forth with IT departments or external agencies to develop concepts and then code the experiences that they are trying to create. Marketers don't have time to spend weeks (let alone months!) to invest in getting new content online. Yet these updates are business critical and must keep the consumer interested in pouring their precious time and limited attention into the retail products that keep the online tills ringing. Moreover, according to Chartbeat, 55 percent of web page views are getting less than 15 seconds of attention — often because the content itself is not engaging or no longer timely or relevant. Time is the new currency, and marketers have just moments to attract consumers and engage them in a transactional experience. So what do marketers need to gain the freedom to market in the moment and deliver that rich instant digital gratification that consumers crave? Last month, Zmags announced the full commercial launch of its Creator platform, giving in-house marketing professionals the tools to do just that. Early retail adopters, Brahmin, New York & Company and Neiman Marcus have all harnessed the Creator platform to move with great agility, ring up revenues and deliver instant digital gratification to their customers. Download our eBook, Mastering Marketing in the Moment which explores the time challenges that modern CMOs face or sign up for a free Creator trial here.