eCommerce Content Analytics: Leveraging Google Analytics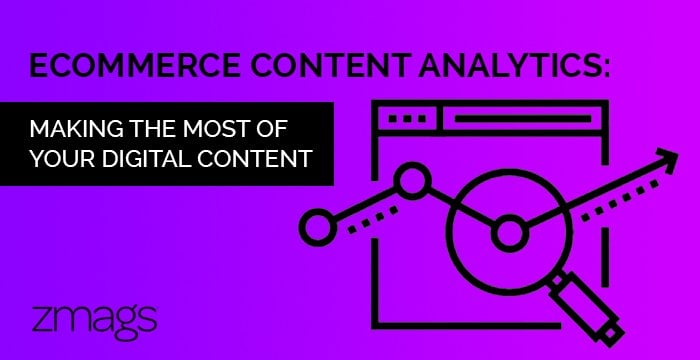 Sharing perspectives on the latest trends and tips to help eCommerce brands stay ahead to engage and drive revenue.
Google Analytics (GA) is one of the greatest tools in the eCommerce marketer's toolbox. With GA, retailers can measure and track their website's revenue and engagement metrics to create a successful content marketing strategy. The problem is, it's been reported that up to 80% of retailers are using Google Analytics incorrectly.
To make sure you don't fall into that group, consider these three metrics that every brand must track and analyze – conversion rates, bounce rates, and average order values. These statistics provide a well-rounded perspective on a brand's success, and allow digital marketers to strategize and ensure success of future campaigns. Below, we break down why each data point matters, and how to create content that boosts your metrics.
Conversion Rate: For most digital marketers, success is largely based on page conversion rates. Therefore, stagnated conversion is a strong indicator that there is something missing from your content. The most efficient way to make content a significant revenue generator is integrating quickviews. With one click, shoppers can activate a commerce-enabled lightbox to quickly add a product to their cart. Through quickviews, shoppers never have to leave the experience to make a purchase, meaning they can remain on the page to continue shopping. Integrated quickviews make it easy for customers to convert, and are a must for any content page.
Bounce Rate: While conversion metrics are often top of mind for marketers, engagement metrics are just as important. A high bounce rate is a clear sign that shoppers are not being given the opportunity to interact with your content. To improve this metric, re-examine the types of content being produced. Quizzes, buying guides, and how-to content keep shoppers engaged with your website, and encourages them to continue exploring. Todays' digital consumers expect everything to be clickable and interactive; when this is satisfied, they reward brands with their time and loyalty.
Average Order Value: Quality rich content should present opportunities for upsell – a great way to track this is through the average order value. A low AOV indicates shoppers are not being given the proper chance to make additional purchases. Incorporating shoppable curated collections into your content is a smart way to encourage these upsell buys. Customers discover products that naturally complement each other. A great example is a "shop-the-look" feature. Shoppers may have been looking for a blouse, but why not add the matching shoes and handbag while they're at it? Content should make product discovery so easy, shoppers simply can't say no.