Customer Stories|Ecommerce Best Practices
Guest Post: The Two-Dimensional eCommerce Site is History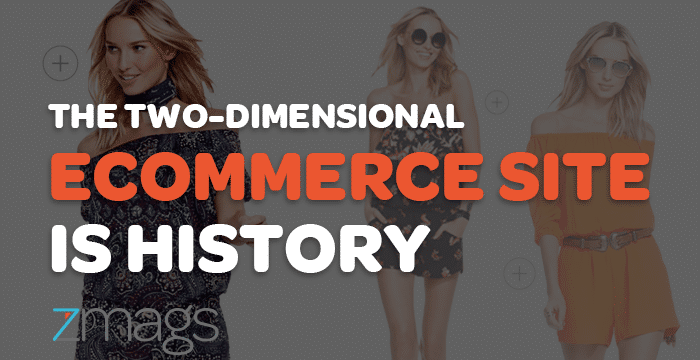 Sharing perspectives on the latest trends and tips to help eCommerce brands stay ahead to engage and drive revenue.
By Paul S. Carroll, VP Digital and Ecommerce Creative, New York & Company
For years, the online retail experience has followed a standard pattern — a simple eCommerce funnel consisting of a grid of product images, menus, a cart and a checkout. Retailers have started to break out of this approach, bringing different media, like video, into play and experimenting with landing pages, recommendation engines and featured content.
However, the traditional commerce funnel continues to reign as the dominant path to purchase. For brands to differentiate themselves from competing channels and grow, they must create compelling experiences fully integrated with commerce as a more engaging alternative to the traditional online retail process and eCommerce funnel. Brands face numerous challenges in developing these experiences. Web design and development are costly and work on long cycles. Producing creative assets, coding and amending are by their nature iterative and can take months.
However, in recent years, technology platforms that enable this process have become much more accessible, robust and cost-effective. This has led savvy retail brands to sharpen their focus on the consumer experience, unpacking the consumer journey from the moment they land on a website through the path to purchase, reimagining that experience as meaningful to the consumer — an image slider that is both interactive and transactional, using curated images and embedded videos around a theme or trend that your consumers identify with, all completely shoppable via quick views or "buy now" buttons, are good examples of this in action. Consumers still want the option of the traditional commerce-driven path because it's familiar, but delivering an experience will set you apart from the channel and competitors.
Taking this a step further, you should be creating multiple commerce-enabled experiences that each gather together collections of complementary items and display them in a way that is enjoyable and interactive — using your merchandising skills to allow the consumer to connect with your visual ideas. At New York & Company, we run up to 10+ experiences at any given time, and because the technology we use is accessible and intuitive, we're able to change those experiences frequently — in-house without the need for coding.
Our Approach to the New eCommerce Funnel
1. Creative
Traditionally, the marketer's mindset is to set up photography that works as print and eCommerce assets. In other words, flat, two-dimensional images that may faithfully show off a garment but don't go far enough to excite the consumer. All too often, the opposite is true. At NY&C, we imagine photos shoots solely from the eCommerce perspective. I consider how images can be layered or animated and how consumers will engage with them online. It's vital to think about the visual impact as a holistic online experience, a bigger picture that combines multiple creative elements and media.
For example, shooting on white sets that allow for the clean partnering of images with animated typography or the addition of stills from related products, GIFs or video.
2. Context.
Marketers also need to look at the contextual elements of the consumer, specifically how, where and when consumers are visiting. Mobile, in particular, has made shoppers increasingly spontaneous, giving us layers of complexity that must be understood.
Today, online shopping combines multiple visits across multiple devices and is typically wrapped around other activities — while watching TV, on a daily commute or during a coffee break. This means that grabbing consumer attention and immediately immersing them in your experience is key. Touching or hovering over an image to reveal further menus and combining that light touch with good creative, as part of a trend experience for example, can shorten the path to purchase, which is critical in a mobile environment.
3. Commerce.
Sales are key. At the end of the day, our job is to showcase our products in a way that resonates with consumers and drives revenue. By not enabling commerce into these experiences, we are limiting the revenue that can be generated, and we are disregarding the customer experience.
It follows that by creating an immersive experience, we are emotionally connecting with the consumer and painting the "what can be" for that consumer with our products. Images need to include things like buy now buttons so that a consumer can proceed directly to the checkout. Adding in registration pages or other stages in the path to purchase only frustrates consumers. It lifts them out of the emotional, happy, playful experience that you've created and puts them into a sterile process which, more often than not, results in abandonment, particularly on mobile.
The Success of Commerce-Enabled Content
By approaching eCommerce as an opportunity to create meaningful, shoppable experiences in this way, it's absolutely possible to hit all measures of online success — reducing bounce rates, improving engagement, boosting sales or a combination of all three.
At New York & Company, we switched to this approach a year ago and since then have seen a major impact in our online operations. What's more, because the technology that we use is simple and intuitive, there is no need to code, giving my team freedom to try new creative ideas. We've effectively removed the straightjacket of the development process and replaced it with something that allows us to bring beautiful experiences to our consumers frequently. The two-dimensional online retail site and traditional eCommerce funnel are a thing of the past — long live the meaningful retail experience.
Are you attending Shoptalk in Las Vegas? Come chat with Paul on Tuesday, 9:30am at Zmags Booth #1213!