Ecommerce Best Practices|Online Shopping Trends
Creating a Rich Guided Selling Experience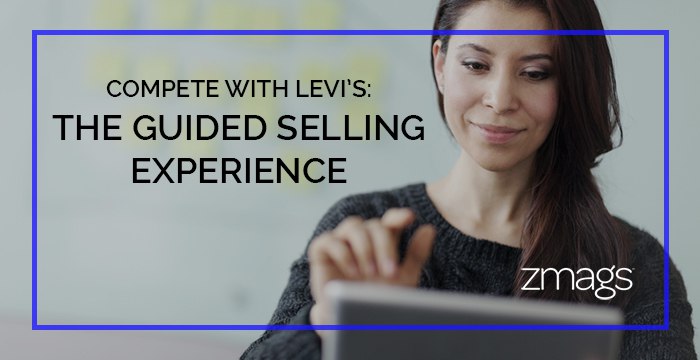 Sharing perspectives on the latest trends and tips to help eCommerce brands stay ahead to engage and drive revenue.
It's been proven time and time again: online shoppers want guidance throughout their purchase process. They don't want to be served up grid after grid of products, with no way of knowing what item is right for them. Providing a guided selling experience can be the difference between eCommerce winners and losers. But classic apparel brand Levi's is taking this to the next level.
Guided Selling Experience: A Different Take
Buying jeans in-store is frustrating enough; doing so online can feel near-impossible. Levi's makes a bold play to alleviate the challenges with a new chatbot feature. Called "The Levi's Virtual Stylist," the AI-powered chatbot helps shoppers select their jeans by asking questions based on rise, stretch, and fit. The bot serves up inspiration as well, with a section called "See It Styled." It takes the in-store experience of a helpful retail employee and translates it to an online experience. At its core, however, this chatbot feature mimics a buying guide (albeit with artificial intelligence and endless inventory search capabilities). But the functionality and end result is the same, which means brands who cannot invest in this sort of AI technology can still compete.
No Artificial Intelligence? No Problem.
Content-led product recommendations are a rich and engaging method to inspire this sort of product discovery. One of our favorite guided selling formats is the decision tree. With a decision tree, also known as an interactive quiz, apparel brands can direct shoppers towards the perfect pair of jeans or sweater through a series of questions, similar to how the Levi's chatbot narrows down their denim inventory. And quizzes are applicable to almost every industry, from appliance to outdoor gear. It's fun, engaging, and makes shoppers feel confident in their purchase.
Live Example: Dormify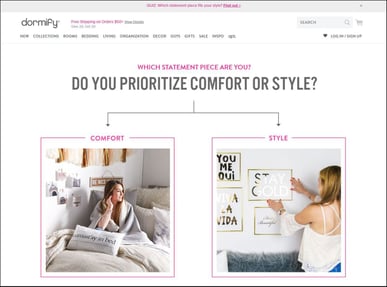 A great example of an interactive quiz is Dormify's "What Statement Piece Are You?" experience. Shoppers click through a series of fun and visual questions to be led to a product perfect for them, complete with visual styling tips. It's an experience that stands out from the noise, and it keeps shoppers engaged with the brand. Through this content-led product recommendation, Dormify achieves a similar result as Levi's chatbot; customers are easily guided to a final product without ever scrolling through a grid, complete with styling advice. No artificial intelligence required.