Improve IT Efficiency Through New Technology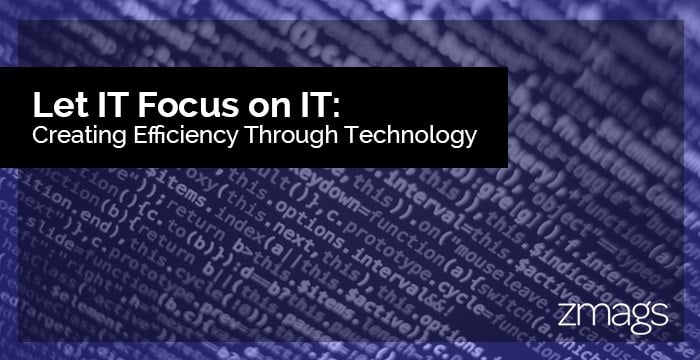 Sharing perspectives on the latest trends and tips to help eCommerce brands stay ahead to engage and drive revenue.
As marketing campaigns become more and more technology driven, the roles of IT and digital marketing have begun to intermingle and blend. Because of this merging of roles, it's more likely than ever that an IT Manager will have digital marketing action items on their already lengthy to-do list. But with the goals and expertise of marketing and IT being so different, it's time to take marketing initiatives off of the IT team's to-do list, and the best place to start is content publication.
Different Goals, Different Priorities
An IT team's number one goal is the technical health of their organization. In a retail company, this includes business and consumer data security, in-store and online technical infrastructure, and more. These goals support the entire company, and will usually take priority over marketing content publication requests. Meanwhile, marketing's primary goal is delivering a brand story that inspires consumers to purchase; but in the retail space this means more and more digital experiences, making marketing increasingly reliant on IT to accomplish this goal. Whether updating the homepage or hand-coding a new trend buying guide, IT resources have become integral to the creation of digital experiences. But when developers are busy with content production, the more significant IT needs and requirements may be overlooked. With the right resources, however, this doesn't have to be the case. Marketers can be given the tools and the know-how to create and adjust web content on their own. When digital marketers are empowered in this way, IT professionals are freed up to focus on their team's goals.
Improve IT Efficiency Through Smart Technology
If retail marketers could independently own content production, both marketing and IT are set to succeed. Marketing and IT leaders should work together to identify Software-as-a-Service (SaaS) products to give this independence back to marketers, and limit their dependence on IT. Tools that allow marketers to create, update, and publish shoppable content allow IT to remove these to-do's from their own lists, and focus on IT deliverables that matter to the organization. When IT can focus on IT, and marketers are empowered to create and publish content, efficiencies are created and the entire organization succeeds. It's time to employ the tools that put everyone back on their right track, both IT and marketing. Want to learn more about new content production technology? Learn More here for our First Friday Demo, and learn how Creator by Zmags enables digital marketers to create and publish rich, shoppable content.