How Marks & Spencer Optimized its Digital Shopping Experience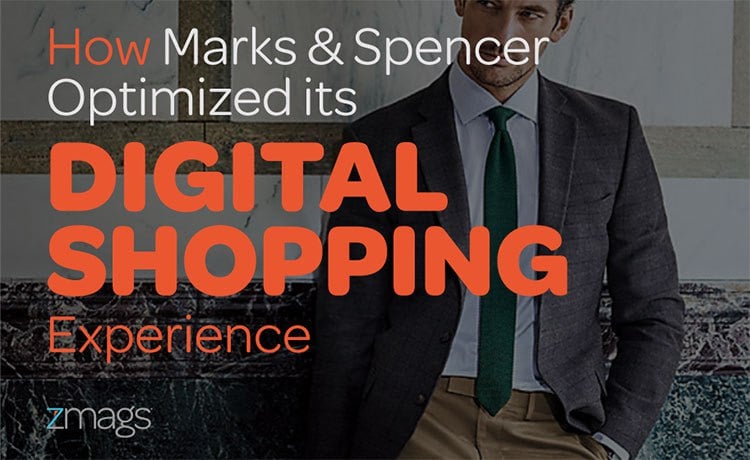 Sharing perspectives on the latest trends and tips to help eCommerce brands stay ahead to engage and drive revenue.
Marks & Spencer is a leading UK-headquartered retailer with a 130 year history of providing customers with exceptional shopping experiences. Although founded more than a century ago, the company remains on the cutting-edge of retail with innovative shopping experiences, particularly across digital channels. Marks & Spencer recently shared several digital content marketing strategies in our Master Marketer Webinar, cohosted with Demandware. Marks & Spencer is creating engaging and highly shoppable experiences for their customers on several Internet domains/properties, all commerce enabled through Demandware.
Three Marketing Goals for Marks & Spencer
Marks & Spencer established three key marketing goals this year in order to provide their customers with superior shopping experiences:
Deliver richer, fresher digital experiences Marks & Spencer is known for their stunning, rich media. They also needed an easy way to make their rich media highly shoppable, and to create the most interactive and memorable customer experience possible.
Find a fast and easy way to update content The retail market is highly competitive, filled with hundreds of direct competitors and millions of discerning, time-crunched customers. Marks & Spencer made time-to-engagement a priority this year. Time to engagement is accelerating how quickly and easily website content is created and deployed. The goal is to engage consumers in the moments that matter. More frequent and richer content drives high consumer engagement and will generate greater revenues.
Shorten the path to purchase Customers don't have time to search through dozens of items and pages in "the grid", the columns and rows featuring bland product images that most retailers use to organize products. They prioritized shoppable content with quick and easy add-to-cart features, as well as other navigation improvements, in order to shorten the path to purchase.
Tackling Website Goals with Shoppable Content
The windows of opportunity to capture customer attention, and to drive conversions, are closing more rapidly than ever. In order to achieve the above goals in the face of ever-shorter attention spans and ever-higher expectations, Marks & Spencer needed an easier, more flexible platform to create shoppable content and a fasterprocess for publishing it online. During the webinar, Marks & Spencer showcased a few of the interactive features they can now easily offer their customers thanks to the Creator shoppable content platform:
Top Picks
To speed the path to purchase, Marks & Spencer added a shoppable "Top Picks" section to the home page of their website. This showcases customer favorite products and enables customers to add those products to their cart without leaving the page and in one click. This carousel is updated frequently, often daily, due to the increased volumes sold on those promoted products. Marks & Spencer can now capture customer attention with engaging content, highlight specific products, enjoy high conversions, and easily swap in and out specific SKUs based on inventory.
Take Your Pick
They've also implemented interactive "Take Your Pick" content to inspire customers to shop the look, rather than the grid. Shoppers now can seamlessly buy complete outfits. Not only does this inspire customers with new fashion ideas, it also helps them purchase more items more easily and more quickly than ever before.
The Results
For the first time in their history, Marks & Spencer's website visitors can shop directly from the homepage. Marks & Spencer also has enjoyed increased engagement and online sales and is now exploring ways to use Creator on additional web site properties. The company anticipates including Creator shoppable experiences in their holiday digital campaigns as well.
Matthias Geist, Site Optimisation Manager at Marks & Spencer, said "With the flexibility that the Creator platform gives us, we can change content multiple times during the week or even during a day without any performance impact to the rest of the website. For the retailer, products sell through extremely quickly…ease of use was quite incredible."
Jeff Dearing, User Experience Architect at Demandware, added, "I can't speak enough to the time savings benefit that [Creator] has delivered."
Rich imagery combined with one-click buying is a trend more leading-edge retailers are embracing. Creator, as the leading shoppable content platform, makes it easier for eCommerce, marketing, and creative teams to easily create and quickly publish, update, and optimize their rich visual content. As Demandware mentioned in the webinar, today's retailers invest heavily in producing great photography but often lack the tools and time necessary to make those images shoppable. That's a huge miss and one that costs retailers in the form of miss consumer engagement, missed conversions and missed revenue opportunities. The Zmags Creator platform empowers marketers and e-commerce professionals to create and publish rich, engaging digital experiences in minutes, without relying on IT. This translates into one of the highest ROIs in e-commerce.
Are you interested in delivering the same type of interactive and shoppable content that Marks & Spencer customers enjoy? Request a Creator demo today.