Interactive Content Spotlight: Free People, Silver Jeans, Asics + more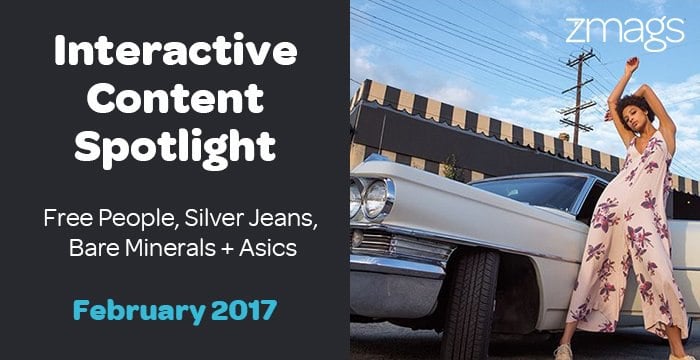 Sharing perspectives on the latest trends and tips to help eCommerce brands stay ahead to engage and drive revenue.
Check out the latest installment of the Interactive Content Spotlight, a monthly roundup of the coolest and most cutting edge digital experiences from around the web. Enjoy!
1. Free People - Freestyle
What it is: A multimedia buying guide
Why we love it: This long-form experience effortlessly integrates videos that express the fun and carefree nature of the brand. With upbeat music and a setting in downtown Manhattan, the experience perfectly defines who the Free People Girl is. And additional styling tips help shoppers build outfits featuring their new purchases with ease. What it's missing: The experience lacks a true shop-the-look functionality. If a shopper wishes to purchase an item, they are brought away from the experience to do so, either to a product page or the dreaded grid. Adding this additional step could encourage customers to drop out of the purchase process; adding quickviews allows for easy purchasing, and hopefully upsells as they shop the experience.
2. Silver Jeans - Love Below The Waist
What it is: A denim buying guide
Why we love it: this experience not only provides product information, but style inspiration as well. Clickable images show shoppers just how to make a complete outfit with jeans, and which items go best with which. And including a video allows customers to see how the clothes move and wear in real life. UGC from Instagram is the cherry on top, showing how real customers are wearing the jeans.
What it's missing: Integrated quickviews would let shoppers purchase directly from the experience, without ever wasting precious time searching through a product grid. And shop-the-look functionality are a great way to encourage upsells.
3. Asics – My Asics
What it is: An interactive training guide for runners of all abilities
Why we love it: This is an impactful example of an experience providing value outside of products. From clickable timelines of real runners' progress to a training plan customized for you, there's so much to explore. Simply input your current ability and your goals, and the experience generates a personal plan tailor-made for you. And every step is broken down for the user's convenience.
What it's missing: There is no shoppable aspect to this experience, because there are no products featured. While the customer-centric approach can be useful, we recommend including a "recommended shoe" section to add shoppability. If positioned as the final step to the training plan, it will have just the right amount of "sell" without going over the top.
4. Bare Minerals – Complexion Rescue
What it is: A multimedia experience featuring product tutorials
Why we love it: It can be hard to convey the features of a cosmetic or skincare product online, so experiences like this really shine. With video tutorials, detailed product information, a digital shade finder, user reviews, behind-the-scenes content, and UGC, Bare Minerals took the guesswork out of buying cosmetics online. And it's easy to make a purchase as well – integrated quickviews mean shoppers are never forced to leave the experience to add to cart.
What it's missing: It's a long form experience – emphasis on the "long." Including carousel sliders would organize the content and make navigation easy, potentially keep shoppers on the page longer.