Customer Stories|Shoppable Content
Shop The Room to Compete with Amazon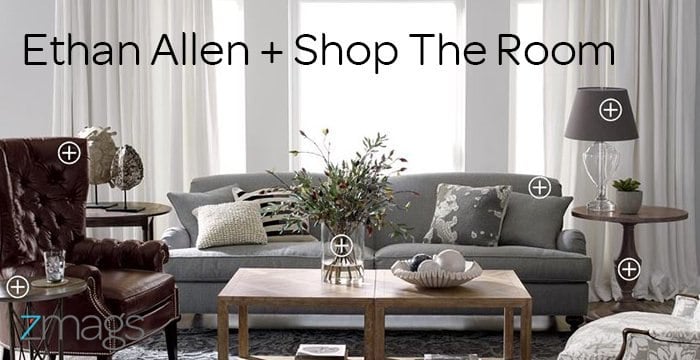 Sharing perspectives on the latest trends and tips to help eCommerce brands stay ahead to engage and drive revenue.
Selling furniture online presents a unique challenge to digital marketers – how to enable customers to experience the products without actually physically seeing or touching them. Furniture is a risky item to buy online: it's expensive, often big and can be a fixture in your home for years. A full sectional couch is just too clunky to bring in and out of your home to "try on" in your living room. There are so many hurdles to buying furniture online, making for a longer sales cycle. So what can retailers do to cut this process down, help customers reach a decision, and let them purchase quickly and efficiently? Look no further than Ethan Allen's latest launch.
"Shop The Room" Digital Experiences
Ethan Allen recently launched over one hundred fully interactive "shop the room" experiences, providing users with a fully furnished and decorated room that is completely interactive. Customers can see what how an item looks in the context of a room, or other items, while getting decorating inspiration. Customers can click on items they like to active a quickview, accessing product details and allowing them to easily add to cart without leaving the 'room'. And every room comes with a helpful description to guide customers through. What makes this sort of experience so successful is the way it navigates the challenges of furniture eCommerce. It's difficult to imagine what a bed frame will look like in your own bedroom. It's such a large and expensive purchase that if it's not just right, returning it could be more trouble than it's worth. Enter shop-the-rooms, offering customers a glimpse into the possibility of each piece. Now you can see how that bed frame looks within the context of an actual bedroom, bringing you one step closer to the buy.
Design Inspiration
These experiences deliver inspiration as well. Every room is carefully decorated, portraying how each piece would best be positioned and styled. Customers can explore the rooms without ever leaving their own home. Shop the rooms provide a great opportunity for upsells, providing a collection of products that just so happen to go together perfectly. So now that you've found the perfect bed frame, look at how great this duvet looks with it, or this nightstand, or this mirror… It's an easy and non-salesy way to suggest products to your customer, all while guiding them down the path to purchase.
Create Interactive Experiences Without Coding
Of course, Ethan Allen isn't the first brand to use shop-the-room experiences; retailers like Pottery Barn, Amazon, and more have all implemented the feature. But the difference is the depth of interactivity in Ethan Allen's experience. Quickviews let customers add to cart immediately, without leaving the experience. The moment a customer has reached that decision, and is ready to make that expensive purchase, they have to be able to follow through. And with Creator, the entire experience was built without coding – meaning retail marketers can create it all themselves.