Ecommerce Best Practices|Online Shopping Trends
West Elm Shoppable Hotels: Bringing Ecommerce to You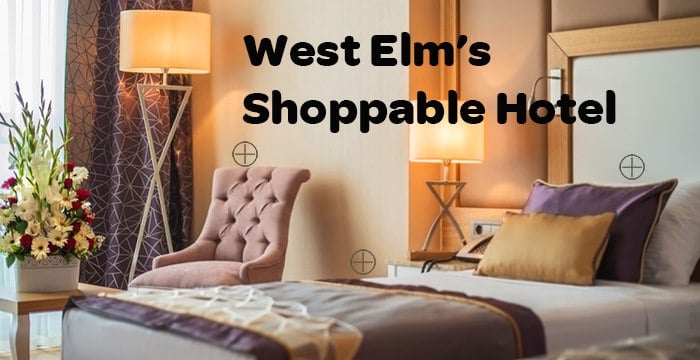 Sharing perspectives on the latest trends and tips to help eCommerce brands stay ahead to engage and drive revenue.
To stand out in an industry that revolves around change, retailers must explore new ways to extend their brands and break down the walls of typical ecommerce channels. Furniture and home décor retailer West Elm takes this concept further – in 2018, they will be launching five boutique hotels in cities across the United States. And every item in their room is shoppable. It is redefining where ecommerce exists by seamlessly integrating into where a customer already is, rather than making the customer find it themselves. When guests check in, they are equipped with an app that allows them to make purchases as they explore their rooms. Love that armchair you're curled up on? With a few swipes on your mobile device, you can own it.
West Elm Shoppable Hotel - Bringing Products to Life
This strategy brings "shop the room" experiences to life – customers are truly immersed in the experience, not in the sense of quickviews and 360 images but in a real space. They are discovering and researching products without having to do anything other than live in the room. Sleep on the bed, put your feet on the coffee table, plop down on the loveseat; all actions are effortless forms of product exploration. And the instant you fall in love with an item, you can have it. It pushes the boundaries of the standard ecommerce channels. Instead of requiring the customer to seek out their products, West Elm is bringing them to where customers already are – they're adapting ecommerce to their users, and leveraging technology to make the process seamless. It's a new way to reach customers, fitting ecommerce into their lives without disruption.
Value Beyond The Product
The hotel angle also has the benefit of being as un-salesy as you can get. Don't want to buy furniture? Then don't. You've wasted no time. And West Elm is specifically abstaining from displaying prices anywhere in the room ( www.wsj.com). The key to this endeavor is the subtlety. Slap price tags on every item in the room and suddenly it feels less like a weekend away and more sitting in a giant showroom. The value of an "integrated experience" like this is not the products. It's about having West Elm products effortlessly incorporated into your life. People have a hard enough time knowing how a product will look in their house; West Elm is giving them a chance to see how it feels in their house. While the focus isn't the sale, it's similar to valuable content. The more you deliver value that's easy to purchase, the more people buy.
The Digital Tie-In
What can make or break a concept like this is the digital experience attached to it. Once guests reach that point where they are interested in buying, or even exploring the product further, the customer journey must be streamlined and pristine. It would be all too easy for guests to abandon their search if it is too complicated. After all, they're on vacation/a work trip/a tour of America's best burger joints – they're not specifically there to buy furniture. Any browsing will be purely casual. The best course of action would be to bring the room to life online with an interactive "shop-the-room" experience. Don't make your customers downgrade from an immersive real life experience to a stale product grid. A shop-the-room experience would translate the room around them to their screen. Quickviews will make it easy for them to buy, or add to cart and revisit when they return home. It will be interesting to see how West Elm executes this plan, and even more interesting to see how other retailers get on board the ecommerce-where-you-are bandwagon. It requires brands to know their customers well enough to bring their products where they already are. We'll have to wait until 2018 to see just how the shoppable hotel will come to life.