Magento Imagine 2017 - Top 10 Tweets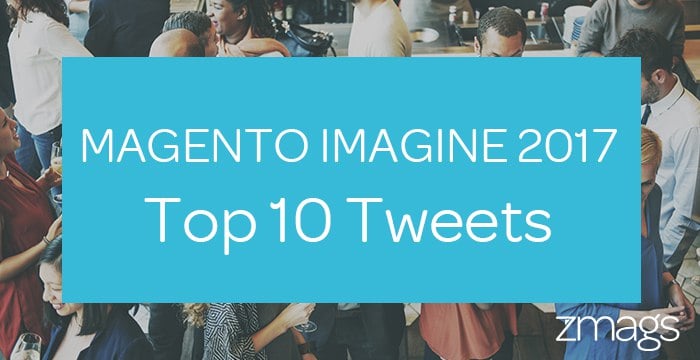 Jessica is an integrated marketing leader specializing in strategic B2B and B2C enterprise solutions.
Magento Imagine 2017 has officially come to a close after three jam-packed days of thought leadership presentations, networking sessions, and some fun as well. As always, it was one of the most anticipated and widely attended ecommerce events of the year, with over 2,500 industry experts from over 45 countries coming together. With speakers like Magento CEO Mark Lavelle, Stella & Dot CEO Jessica Herrin, Dormify COO Nicole Gardner, and of course iconic tennis champion Serena Williams, this is a tradeshow people will be talking about for quite a while - it was truly a can't-miss event. But don't worry - if you did happen to miss it, we have you covered.
To get the full Magento Imagine experience (minus the flight to Las Vegas), check out our top 10 tweets from the event:
We're so honored to have @serenawilliams on the #MagentoImagine Stage. Greatest Athlete Ever. @awatpa pic.twitter.com/lsM3N4nZrk

— Mark Lavelle (@mklave1) April 5, 2017
"Growth of the community powers tomorrow" - @mklave1 Can anyone else say better than this? #imagine2017 #Magentoimagine

— The Commerce Shop (@TheCommerceShop) April 5, 2017
Omnichannel is not optional! pic.twitter.com/kI2dvXvUGn

— kimberely thomas (@magentogirl) April 5, 2017
Well done Magento Masters #Magentoimagine pic.twitter.com/pZTfd0fMCY

— Deryck Harlick (@FutureDeryck) April 5, 2017
Proud of the growth in the Magento economy #Magentoimagine pic.twitter.com/QjQbMiq4Pp

— Roy Rubin (@royrubin05) April 4, 2017
Full announcments: - B2B - BI new tiers - CMS - MCOM rollout to SI providers - Shipping - Social - 2.2 soon - 2.3 late 2017#MagentoImagine

— JH (@wearejh) April 5, 2017
Shopping by personas - luxe lover, hostess, bohemian best friend - led to a 58% increase in conversions! #dormify #Magentoimagine

— Jen DeSimoni (@JennaDesimoni) April 4, 2017
.@stelladot CEO @JessicaHerrin is a dynamic presenter. #Magentoimagine pic.twitter.com/tPx3TnIA14

— Magento (@magento) April 4, 2017
80% of B2B buyers expect consumer like shopping experience... #Magentoimagine showing all these new features pic.twitter.com/1fMEaQl6Go

— JH (@wearejh) April 5, 2017
"Technology is the pillar of business growth" ~ @DevlynOptical at #MagentoImagine

— Alessandro Ronchi (@aleron75) April 5, 2017
See you at Magento Imagine 2018!