Website Views to Customers: Rethinking Product Pages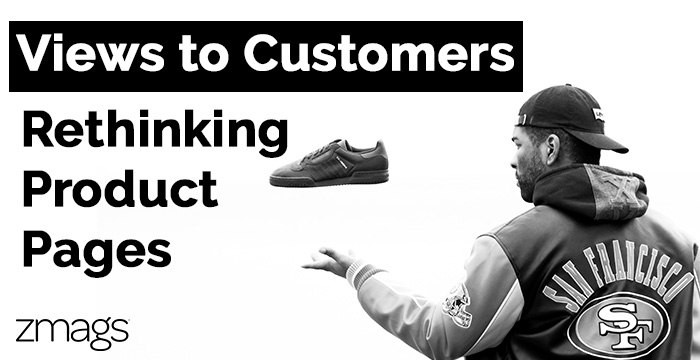 Cait is a Senior Vice President, Product and Customer Experience. She's an experienced product leader adept at working with cross-functional teams to launch products that meet and exceed the needs of eCommerce brands.
A product page may be the most crucial part of your site when it comes to sealing the deal with customers. This page is the last thing your shoppers see before they make their final decision on whether or not they are purchasing from your company. So, what makes a product page a standout?
Content on Your Product Page! The content on your product page is arguably the most important factor in turning your website viewers into customers. Ironically, you don't need to have a ton of design skill to have killer content. The most important thing to remember is knowing that visual stimulus attracts the customers you are targeting.
Using the correct visual stimuli lets you control how your viewers react to your product page. Websitebuilderexpert.com states, "For example, research has shown that the color orange appeals most to impulsive shoppers, while the color blue and teal attracts the budget-conscious buyers. You can pick the color of your add-to-cart button to match the type of consumers you want to attract — impulsive or budget-conscious buyers."
Circling back to not needing any intense design skill, all really you need is:
An understanding of the type of customers you would like to attract
Field-tested visual stimulus to target your desired audience.
With these two factors, you will know how to target your desired audience and create high converting product pages. There are also additional assets you can add to your product page to elevate your sales. These include informative product images, creative and catchy product descriptions, demo videos, user-generated content, and customer reviews or ratings.
Don't Forget SEO Staying on top of your SEO is also a critical way to make sure your content stays relevant. On top on attracting interested customers, implementing a few SEO strategies can raise your page to the top of search engine pages. Optimizing your page titles, meta descriptions, header tags, alt texts, and crawlable texts can significantly increase your page presence on the internet. Consumers rely heavily on search engines to find products and businesses, so having a powerful digital SEO strategy is paramount for all marketing teams.
Rethinking the way you view your own product pages and implementing a few new ideas can increase your company success.