Online Shopping Trends | Content Spotlight
The Benefits Of Using Quizzes In Your Content Marketing


Alex is a Brand and Marketing Programs Manager specializing in design and content development.
The psychology behind quizzes is based on years (since before the internet was a thing and people took quizzes in magazines) of data. According to Psychology Today, people use quizzes to learn something about themselves, to indulge in a little 'me time,' and to feel like they belong. While taking a quiz, consumers are thinking about themselves or something that they are looking for. As quizzes are something that people are already inclined towards, making them an integral part of your digital experience strategy has many benefits.
Provide customers with a personalized and interactive shopping experience.
Quizzes give you the ability to provide your audience with want they want most - the thing they are searching for! Brands are able to use quizzes to drive customers to the product selections based on their wants and needs.
Some brands create whimsical personality trait style quizzes that are designed for entertainment while others focus on facts. For example, a cosmetics company may ask specific questions about skin or hair type, and a furniture brand could ask playful questions about your favorite TV show. As long as the quizzes are designed for the specific purpose of enhancing the customer journey by providing your audience with personalized results, they are a great addition to a brand's content strategy.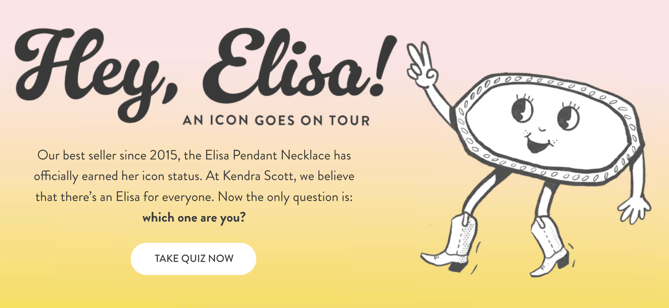 Check out this example from Kendra Scott. Shoppers take the quiz and are then matched with a variation of their Elisa Pendant Necklace.
It looks beautiful, works seamlessly, feels personal, and puts a best-selling product in front of shoppers.
Quizzes are a great way to spread brand awareness.
Over a six-month time frame, Kissmetrics looked at the top million shared Facebook post types (lists, infographics, quizzes, videos, etc). They concluded that quizzes are the 'most engaging type of content on Facebook with an average of 51,968 likes and shares. With that kind of enthusiastic sharing metric, the ability to get a brand's quiz in front of a wider audience makes quizzes an important part of content marketing.
More than the sharability, quizzes allow you to express brand voice in an interesting way. A quiz aimed at teenagers would have a different style and tone of voice than a quiz aimed at a group in their 50's. Here are some questions that will help you come up with some ideas for a compelling quiz for your brand:
What topic appeals to your target audience?

What valuable thing could your quiz teach them?

What question(s) are you answering?

Can you incorporate your audience's favorite TV program, celebrity, or book to make the quiz relatable?

Is the chosen topic relatable to your products/services or seasonably appropriate?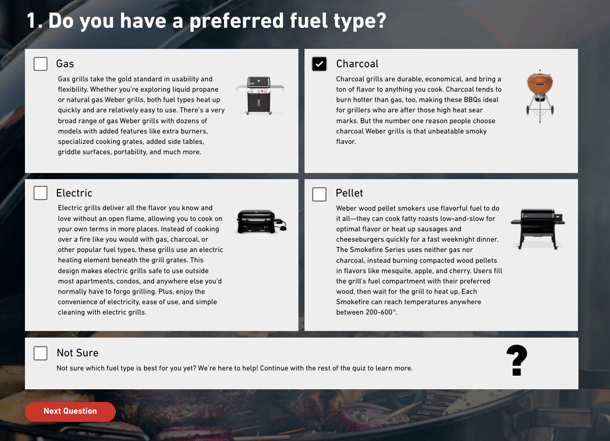 Another great example is this grill quiz from Weber. With a plethora of options differing based on a variety of features from
size to preferred cuisine, their grill quiz acts as a personal sales associate, directing shoppers to the products they're looking for.
Get essential customer data and reduce bounce rates.
Another benefit of quizzes is that they can potentially tell you a lot about your customers. Zero-party data – information directly shared by the shopper – can help guide hyper-personalized marketing and merchandising efforts instead of blindly casting a wide net. Some brands add short forms asking for the name and email address so that the results can be emailed or displayed to the customer. Other brands track the customer's journey to see what their answers are and if this prompts them to make a purchase.
Bounce rates can affect how search engines rate your website so keeping your customers interacting with your content is essential. Not only will it make your brand more memorable, but providing an interactive experience, keeps your customers engaged on your site for longer, decreasing your bounce rates.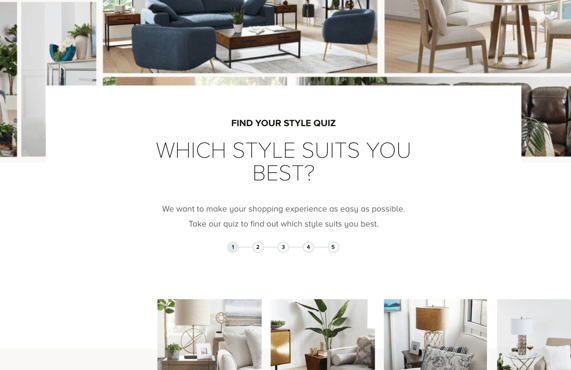 With interior design being an aspiration for many, but a strong suit for few, guidance that streamlines the
home design pursuits of shoppers is a smart strategy. City Furniture has this covered with their style quiz.
All the quiz examples in this blog have been built using the Fastr Frontend platform. Watch a short video tutorial to see how the Kendra Scott quiz was created, schedule a demo for a personalized walk-through of the platform and how it can level-up your content marketing, or take our quiz below.