The Future of Digital Experience Creation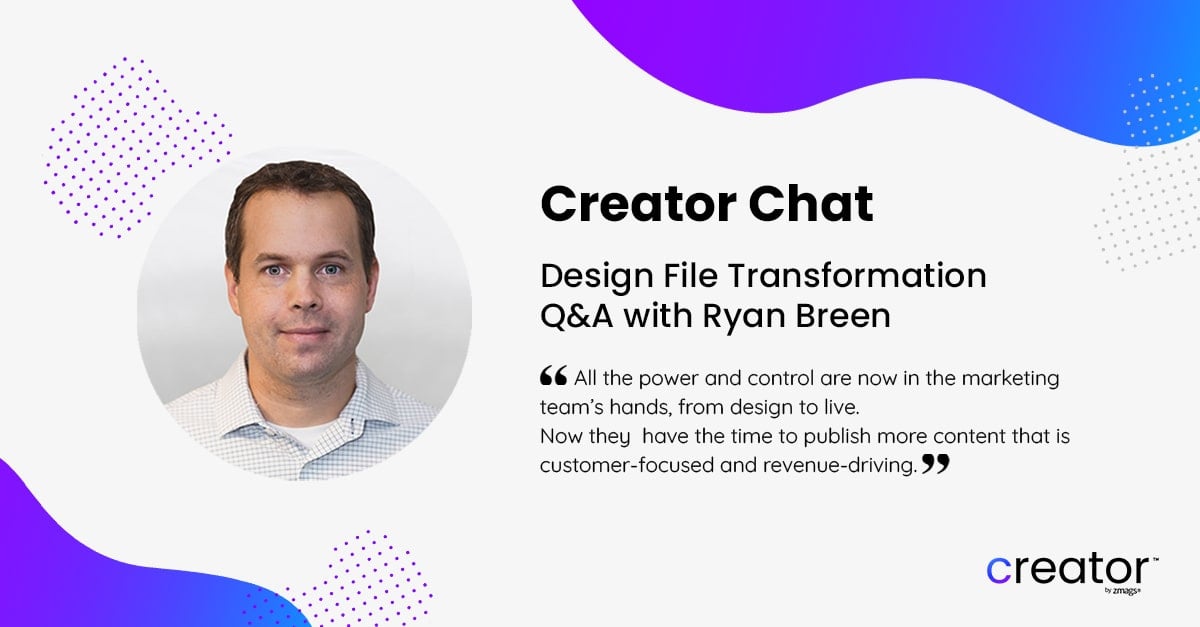 Alex is a Brand and Marketing Programs Manager specializing in design and content development.
You may have already heard the news that the Creator platform has a new innovation in its digital experience arsenal. This feature enables marketers to upload ANY design file directly to their website, in mere seconds. This patent-pending innovation empowers marketers to go from design concept to live interactive digital experience faster than ever before.
Previously, you met Allison Vernerey and Alex Spiret, along with Daniel Mott and today we'd like to introduce you to Ryan Breen, Chief Technology Officer. Ryan spearheaded this groundbreaking technology development so that marketers can publish shoppable content without having to write a single line of code. We interviewed Ryan to understand better what brought us to this pivotal moment in content creation.
Where did the inspiration for Creator's new design file transform tool come from?
As we grow, we get to talk to an increasingly diverse range of customers. These are design and marketing teams ranging from super lean to massive, and they all use these powerful design tools such as Adobe Creative Cloud, Figma, and Sketch. They were comparing our editor to these Goliath design tools. When a design has been fastidiously and lovingly created, they didn't want to save individual elements only to then drag and drop them into Creator and rebuild them into the same structure. Instead, they want to take the design from the tools they have used for their entire career and make them interactive, to make them shoppable. We don't want to be another design tool. Instead, we want to be a bridge that makes marketers' and designers' lives easier. So, we concluded that designers should be able to publish their designs, from any design tool that they use, via Creator in seconds.
Can you tell us about the problem it solves?
We spoke to many customers, and everyone (from the design teams to their Chief Marketing Officers to developers building applications) said that it was too hard and time-consuming to take the designs, turn them into HTML/CSS, and retain the original look.

Fundamentally, the problem we've solved is how many handoffs are necessary to publish content and the amount of time it takes to do it. Now, designers can upload their design file into Creator, add product or page links and animations with a few clicks and publish it directly to their website. All text will be live and crawlable to search engines. This is great for SEO and ADA compliance, and it also means that anyone on the marketing team can go in and edit the text as desired. For example, changing a promotion from 15% to 20%, or something to that effect.

We've reduced the time it takes to publish content by 90% and eliminated the need to outsource to 3rd parties or rely on development and IT teams for help. All the power and control are now in the marketing team's hands, from design to live. Now they have the time to publish more content that is customer-focused and revenue-driving.
Why is this such an innovative gamechanger?
This tool enables marketing teams to make content exponentially quicker. Think of all those times when a trend has emerged and brands have wanted to jump on it, but the development time frame has prevented them. Now, if a relevant and cool trend pops up, they can get an interactive email deployed and a shoppable experience published on their site in a few hours. It gives them the ability to compete with eCommerce giants.
What was the journey to get to the final product, and were there any unforeseen challenges?
The great thing about the Creator is that we're constantly evolving and improving our tools, making us an innovative digital experience platform. After undergoing substantial research, it was all about having the right team in place to make it happen. We have a phenomenal architect, Maher Kassim, who worked out how to get pixel-perfect imagery, all the live fonts, and multiple layers from a design file and into Creator. Once that was achieved, we knew we could turn this into a formidable tool with tremendous capabilities to change the way digital experiences are published.

We had autonomous teams working in parallel to move the project along at a fast pace. The distributed effort enabled us to be nimble and have several things happening at once, but they still all hand to land at the same time. It was a whirlwind, and a credit to our product lead, Allison Vernerey, for making it happen.

Every project has unforeseen challenges, and this is tech that no one else has, so there were a few bumps along the way. The one thing that springs to mind is that the team working on this project was, while remarkable developers and architects, were wildly out of their depths regarding UX design.

So, Cait Porte (Senior Vice President of Product) teaches at General Assembly; and she set up an assignment for the students to test and design the UI. One of those students has now joined our team made it a supremely user-friendly and cool-looking tool.
What was the response from the beta testing?
Even in the early stages before we spent time on the UX, they loved it. The sheer amount of time it saved them blew them away, and they knew it was a gamechanger. So much so that every single beta tester became a paying customer. And what's more, about 95% of new customers in the past month came to us because of this new tech's time-saving and interactive capabilities. Again, proving that this is not only wanted but needed throughout the eCommerce industry.
What are the plans for this design file transformation tool for the remainder of 2021?
We've innovated the developer out of the equation already. The next steps are to keep adding functionality so that designers and marketers can take their digital customer experiences to another level.

Our next update will enable customers to upload multiple art boards and scenes in one experience for carousels, quizzes, flipbooks, and other interactive experiences. After that, we'll give customers the ability to upload multiple layout variants for a complete mobile responsive design and translate all text into as many languages as needed. This will mean that when someone updates the text in one area, it will update across all devices and language variants. Lastly, the final update we plan to do this year is to scale and optimize images for web use automatically. This gives customers the ability to control how compressed they want images to achieve optimal site speed.
See the future of content publishing for yourself with our on-demand webinar: Design to live in seconds.