Zmags News | Ecommerce Best Practices | Creator News & Updates
Game Changer: Transform Any Design into a Digital Experience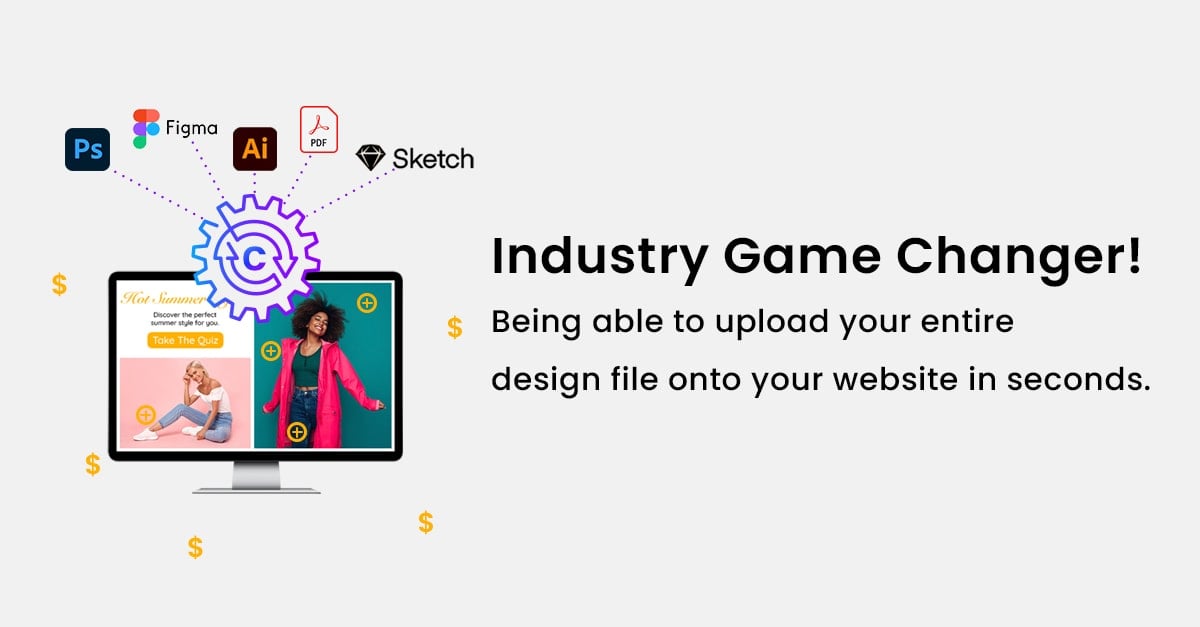 Alex is a Brand and Marketing Programs Manager specializing in design and content development.
When it comes to implementing marketing campaigns and programs, each team is unique - and so are the design files used to bring their creatives to life. Marketers and designers can choose between dozens of design and image file types, and create them in different tools.
No matter what file type your team uses, Creator is designed to work with any design file, making your unique process more efficient than ever.
Before we get ahead of ourselves, let's take a step back and go over the different design file types out there.
Understanding the different design and image file types

Some design file formats are fully editable with multiple layers, while other image formats are finished, meaning they are fixed and can't be edited. There are also raster images that are composed of pixels and can't be stretched without compromising the quality and distorting the image. Compared to vector images, which are composed of proportional formulas making the file flexible for resizing.

First things first, let's break down the most common design file formats:
AI - Adobe Illustrator - vector & editable file
PSD - Adobe Photoshop - editable file
FIG - Figma - editable file
JSON - Sketch - editable file
INDD - InDesign - vector & editable file
PDF - Portable document format - vector & typically finished file that can be edited in some programs
EPS - Encapsulated PostScript - vector & editable file
SVG - Scalable Vector Graphics - vector & editable file
JPG & JPEG - Joint Photographic Export Groups - raster & finished file
PNG - Portable. Network Graphics - raster & finished file
TIFF - Tagged Image File Format - vector & finished file
GIF - Graphics Interchange format - raster & finished file
WebP - Web Picture Format - raster & finished file
EXR - OpenEXR - raster & typically finished file that can be edited in some programs
DXF - Drawing Interchange Format or Drawing Exchange Format - vector & editable file

Most people have a preference for which tool they use to design. These are the digital image formats that these popular design tools can export:
Sketch: PNG, JPG, TIFF, WebP
Figma: PNG, JPG, SVG, PDF
InDesign: PDF, EPS, JPG
Illustrator: AI, PDF, EPS, FXG, SVG
Photoshop: PSD, GIF, PNG, TIFF, EPS, PDF, JPG
XD: PNG, SVG, JPG, PDF
Converting design files no longer has to be a heavy lift

We know that turning a design concept into a live web experience can be a hassle. The more often you have to jump between different tools and file types and relying on the bandwidth of your developers, the more time you lose - and the more likely you miss deadlines and KPIs. That's why we set out to make Creator your seamless one-stop digital experience design tool for marketers.


There is a new patent-pending innovation available with Creator - which will remove the manual steps that slow down your creative process and get your designs live instantly. And we mean ANY design file in actual seconds.
Go from creative idea to digital experience in seconds

To meet the increasing demands of the eCommerce world, marketers need to produce impactful interactive content to keep up with constant market changes and competition. Brands that publish visually impactful content with layered and dynamic shoppablility regularly engage their target audiences while continuing to generate conversions. With Creator's design file conversion capabilities, marketers no longer have to wait weeks for developers to build content; instead, they now have complete control.

This Creator release frees up development/IT teams' time and saves costs on external third parties resources, AND marketing teams are empowered to bring their creative vision to life in the way they intend. Just imagine being able to upload your Figma, Sketch, Photoshop, Illustrator, Pdf or XD file directly to your website in mere seconds, adding the interactivity and animations to bring it to life in just a few clicks. It'll be a game-changer to your current process. With the amount of time you'll save, you could be publishing more content and do all those things you could only dream of trying.
If your mind is as blown away by this as ours (even though we're the ones who created this innovative technology) learn more about Creator's design file capabilities.