Interactive Content Spotlight: Lulu Guinness, Columbia, Bobbi Brown + More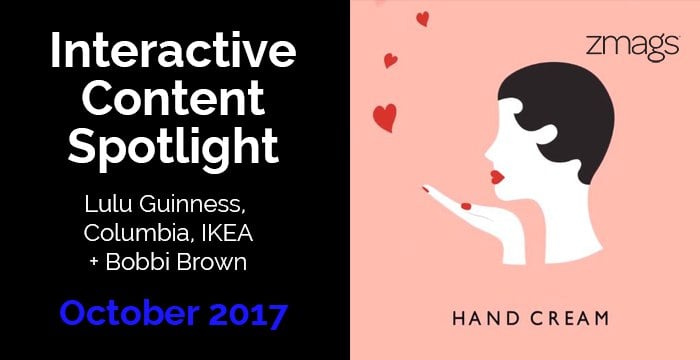 Sharing perspectives on the latest trends and tips to help eCommerce brands stay ahead to engage and drive revenue.
Check out the latest installment of the Interactive Content Spotlight, a monthly roundup of the coolest and most cutting edge ecommerce interactive content examples from around the web. Enjoy!
Lulu Guinness – Which Lulu Girl Are You?
What it is: An interactive, multimedia quiz experience Why we love it: This experience uses an interactive quiz to direct shoppers to a curated collection of products compiled just for them. The quiz itself is fun and delightfully on-brand, with bold graphics and accompanying music. But what sets this experience apart is how the rich content continues beyond the quiz. A sliding carousel features a series of colorful embedded videos that make the page dynamic and exciting, and a clickable photo gallery provides plenty of shopping and styling inspiration. What it's missing: We would love to see integrated quickviews added to this page. It's such a rich and engaging experience that shoppers will want to stay on the page to make their purchases so they can continue to explore. Check it out: https://www.luluguinness.com/aw17-vaseline
IKEA – Streamline Your Post-Dinner Clean-Up
What it is: A visual how-to guide Why we love it: IKEA provides décor and lifestyle inspiration through this richly visual experience. The brand is often considered the DIY furniture retailer, so it's fitting their content would take this DIY attitude to the next level. Throughout this experience, shoppers find clever tips to make dinner clean-up a breeze. What's so impactful about this content is that the focus isn't on the products, it's on the advice being given. The fact that shoppers can also buy the items features is an added bonus. What it's missing: To make this static experience more dynamic, we recommend integrating video and gifs among the images. It's an easy way to add depth to the page, while keeping shoppers engaged and interacting with the content. Check it out: http://www.ikea.com/us/en/ideas/
Columbia Sportswear – How Do You Hike?
What it is: A personality-driven buying guide Why we love it: Columbia has such a wide range of footwear and athleticwear that it can be difficult for an online shopper to narrow down the products to what they actually need. Luckily, this experience does it for them. Shoppers select a hiking personality type – Epic Adventurer, Weekend Warrior, or Everyday Wanderer – and are immediately sent via internal linking to a curated collection tailored to their needs. The experience is highly visual, bringing an extra dose of richness to the page. As a perfect and fun final touch, the experience ends with easy-to-follow s'mores recipes. What it's missing: This experience would function beautifully as a digital quiz, and this may have been a marketing decision or may be a missed opportunity for the brand. Instead of simply asking shoppers to determine their hiking personality themselves, the experience could have guided them through a series of questions to their personality, and to the associating products. Check it out: https://www.columbia.com/hiking-landing/
Bobbi Brown – Find Your Foundation
What it is: A multimedia educational experience
Why we love it: This is a great example of a cosmetics experience that has a little bit of everything. A multi-step decision tree guides shoppers to their proper foundation shade; each foundation product is broken down for customers who want more information; a how-to section provides shoppers with application advice, straight form the experts; and a series of videos show shoppers how to use each foundation product for their own personal needs. Buying makeup online can be a gamble, since there is no way to know 100% how a lipstick or powder will look once applied. But experiences like these make the process easy, giving shoppers the confidence to make a purchase. What it's missing: To buy the products featured in the experience, shoppers are directed to a standard product page. Featuring integrated quickviews would allow them to buy as they go, remaining on the page. Check it out: https://www.bobbibrowncosmetics.com/skin-foundation