Welcome Emails: What You Need To Know To Stand Out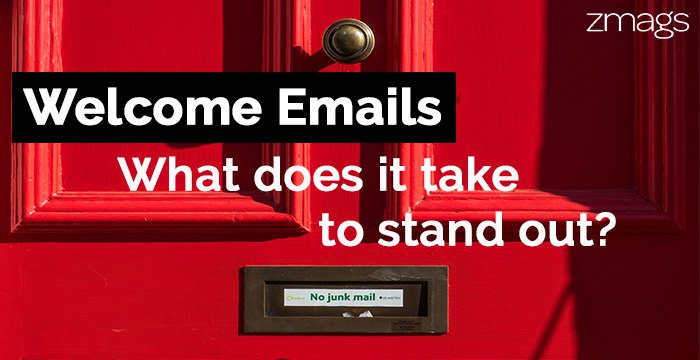 Jessica is an integrated marketing leader specializing in strategic B2B and B2C enterprise solutions.
Welcome! You've got mail. While email marketing may seem simple to the receiver, every marketer knows how hard it is to create a catchy subject line and interesting email body. This is your first direct communication to a customer, and all brands want to make a good first impression. In this blog, we'll discuss what goes into a strong welcome email and five examples of emails done right.
What's a welcome email?
A welcome email can take many forms depending on the campaign, whether it's the beginning of the customer onboarding process, communication with a new or current shopper, or the first subscription communication. These emails are the foundation of your relationship with customers. So it's important to knock these emails out of the park.
According to data from Omnisend, welcome emails have an average open rate of 45%, versus an average open rate of 18% for promotional emails. When it comes to welcome emails that convert, there are five important objectives you should keep in mind:
Provide upfront value without bombarding customers with promotional messages
Personalize your message to increase higher open rates
Send welcome email within minutes of a customer's interaction
Pay attention to subject lines
Have a clear call-to-action
5 Excellent Examples of Welcome Emails
Away Luggage
Leading luggage brand Away Luggage has been sweeping millennial customers "away" with their smart branding, and this translates effortlessly with a welcome email that introduces customers to their company vision and passion for traveling. By keeping it short and simple, customers are not overwhelmed with promotions and unnecessary clutter in their inbox.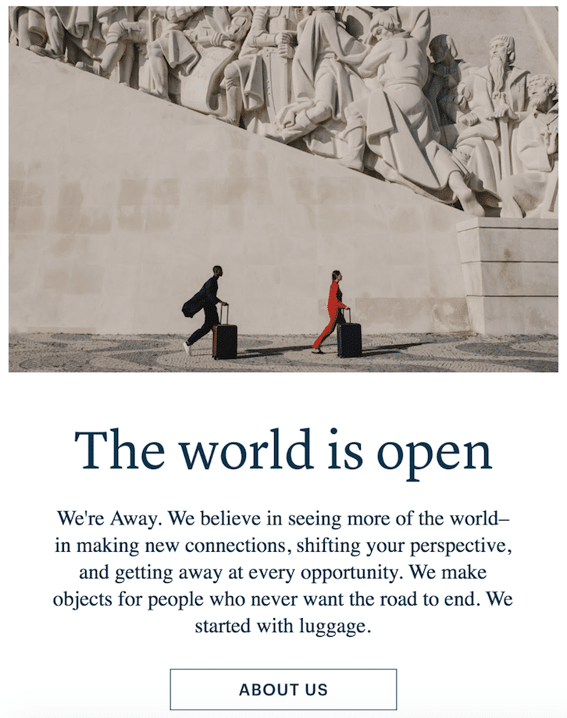 Allbirds
Allbirds is known for their distinct branding and sustainable design process. This welcome email holds true to the company values, and will resonate with like-minded customers. With their subject line reading "Welcome To The Flock," they incorporate colorful and interactive GIFs and imagery to entertain new customers.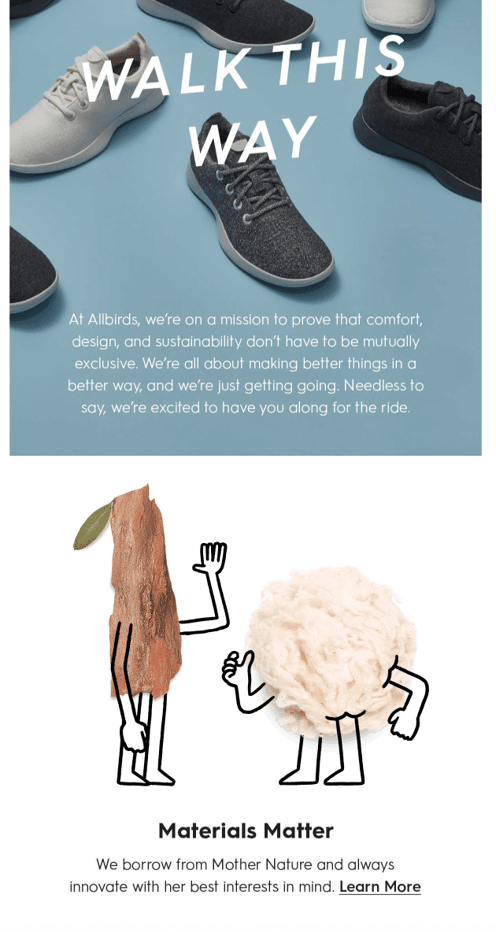 Lush Cosmetics
Lush incorporates the use of a product carousel to display popular products while introducing the customer to their brand. The subject line reads, "You're part of the family now," complete with a heart emoji, falling in line with Lush's casual, friendly, and approachable brand voice.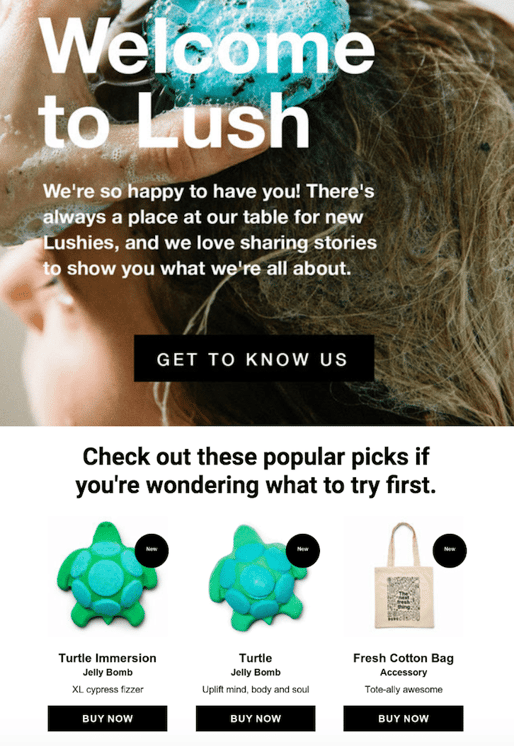 Ralph Lauren
The timeless brand keeps it simple in this welcome email. The luxury brand offers 10% off the customer's next purchase by strategically using messaging around "exclusive" offerings.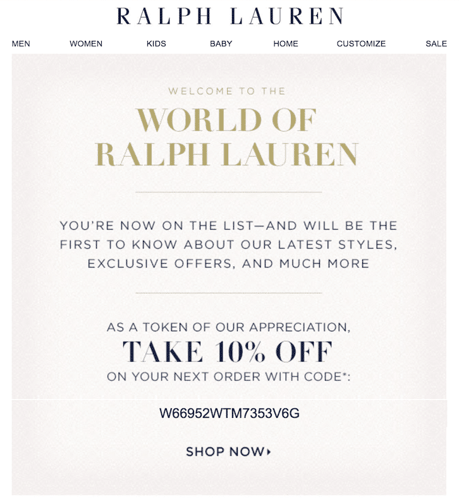 The MVMT
The MVMT company has gained a swell of followers and reach on Instagram. With trending imagery and millennial targeting, MVMT encourages new signups and community members to join the MVMT experience. According to Shopify, "high-quality photography exudes the luxuriousness of the brand and its products, while handpicked user-generated content introduces you to members of the community."