Meet the Zmags Team: Jake Brown, Solutions Engineer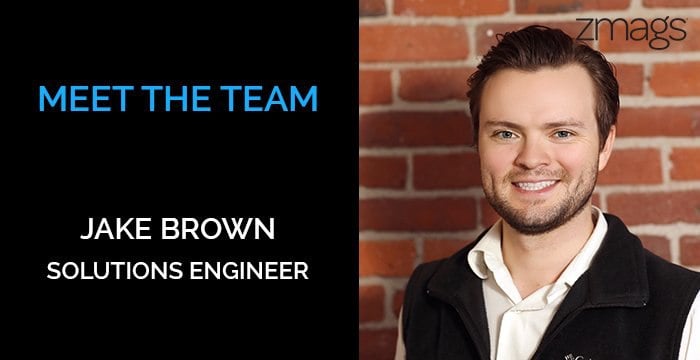 Sharing perspectives on the latest trends and tips to help eCommerce brands stay ahead to engage and drive revenue.
What do you do at Zmags? How long have you worked here and why do you stay? The official title is Support and Solutions Engineer, but as most members of our team we handle all aspects of the technical side of the two Zmags platforms. Specifically I focus on handling support requests and training users on both platforms. I have been working here for around 1 ½ years (officially two at the end of March) and really enjoy the challenges presented with this job as well as the ability to continue to learn new things every day. Which celebrity will star as you in your biopic? As much as I'd love to say Leonardo DiCaprio, more folks would say Rainn Wilson. So… Leo for sure. What are you most proud of (work or otherwise)? I am really proud about all of the knowledge that I have gained through my tenure year as well as all of the customers I have helped support, train, and gotten to know while working with both platforms. I'm probably one of the worst at ping pong here and ditto for Mario Cart, but I've been dubbed the resident Hipster (for better or worse) so I have that going for me too! Describe your inner superhero – name, costume, and superpower! I made it three questions without mentioning cats… well, my superhero would be called Mr. Meow-Meow and he would most definitely have a cap and be dressed as a "proper" gentlemen (black top hat, monocle, curly moustache, and a cat tie… because cats rule). My super power would be the ability to talk with cats and be a bridge between our world and theirs. As a proud cat dad of two (Hadley and Salem), I believe our feline friends have a lot of wisdom and knowledge to transfer to us... even if it only pertains to red dots and cardboard boxes. Where will we find you in 5 years? My answer 5 years ago would have been completely different from today, so it's hard to say! I'd like to think I would be still be here at Zmags, albeit maybe in a different position. I could also be attempting to hike the PCT or AT. Regardless of where you find me, know that there will be many cats and dogs (and my wife too, shout out to Bae).