Content Marketing Examples: Top Zmags Blog Posts of 2017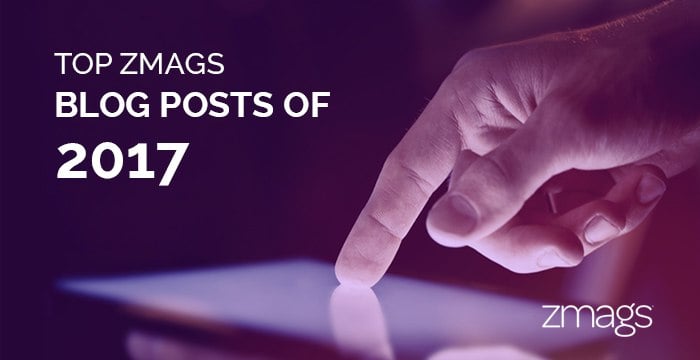 Sharing perspectives on the latest trends and tips to help eCommerce brands stay ahead to engage and drive revenue.
Rich digital experiences are quickly becoming differentiators among ecommerce winners and losers. In 2018 and beyond, richly unique and shoppable content will be king, so to stay on the throne, retailers will need more inspiration than ever. So to get the creative juices flowing, and to kick off the new year, we're taking a look back at some of last year's top-performing Zmags blog posts. Featuring real-life content marketing examples from brands like New York & Company, Serena & Lily, Deborah Lippmann, and more, these blog posts round up some of our best tips and tricks for rich content. Consider it a replay of the Zmags greatest hits. Enjoy!
1. Content Inspiration: Our Favorite Holiday Marketing Campaigns of 2017
This was one of our most popular blog posts of 2017, and for good reason. Holiday content campaigns can be the difference between success and failure for retailers, and inspiration comes in many forms. Featuring live examples form brands like Annie Selke, New York & Company, Francesca's, and Gardener's Supply Company, this blog post will demonstrate an endless amount of content ideas for a variety of seasonal content. We recommend checking out these buying guides, quizzes, and lookbooks for all holiday content inspiration, from Valentine's Day to Thanksgiving. Read the blog: https://zmags.com/blog/holiday-marketing
2. Competing with Amazon Through the Retail Customer Experience
Amazon is undoubtedly an industry giant, and in many aspects competition is ill-advised. Smaller retailers simply cannot beat Amazon at the price game. But where these brands can effectively compete is through customer experience. A strong guided experience that makes online shopping effortless and enjoyable puts brands above the noise. Check out this blog post for four tips to create rich customer shopping experiences that Amazon cannot deliver. Featuring examples by Serena & Lily, Hush, and more. Read the Blog: https://zmags.com/blog/customer-experience/
3. Increase Conversion Rates – Three Tips for Retailers
For many digital marketers, the most important metric is conversion rate, and meeting conversion goals often determines whether a campaign was a success or a disappointment. This blog post reviews three strategies retail marketers can employ to boost conversion metrics and turn content into a significant revenue generator. From quickviews to inspirational landing pages, these three tips can be deployed by any online retailer, across all industries. Read the blog: https://zmags.com/blog/conversion-rates/
4. Digital Content Creation + NYFW 2017
Through the rise of social media, New York Fashion Week is quickly becoming one of the most iconic events of the year. In one of our top blog posts of 2017, we break down how brands can bring this once exclusive in-person event to all their consumers through rich digital content. Fashion, footwear, cosmetic, and accessory brands can all find inspiration on how to deliver New York Fashion Week to customers eager for fresh, of-the-moment content. This blog highlights digital experiences by New York & Company, Deborah Lippmann, and more. Read the blog: https://zmags.com/blog/content-nyfw-2017/