eCommerce Curated Content – Father's Day Buying Guides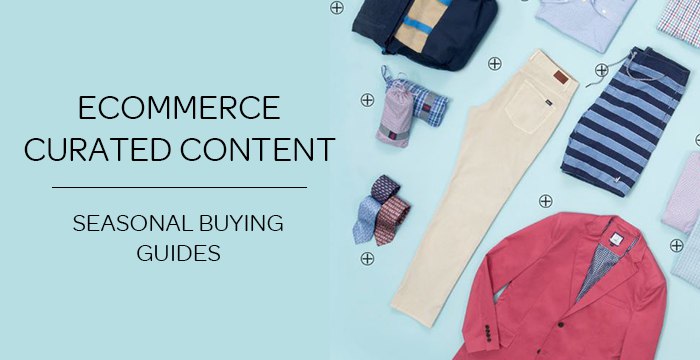 Sharing perspectives on the latest trends and tips to help eCommerce brands stay ahead to engage and drive revenue.
Fresh content should be a part of every retail marketer's content strategy. It's an impactful way for brands to deliver exciting experiences to their loyal customers that want to be surprised and on the cutting edge. Seasonal experiences are one of the best ways to deliver fresh content, because they provide a strong context to buy. Consumers are likely already interested in making a purchase, so content that serves seasonal products up to them without any work on their part is sure to resonate. Seasonal shopping can be stressful – think of back-to-school shopping or holiday shopping – so buying guides that make the process easy are always appreciated by loyal customers.
eCommerce Curated Content That Converts
With the summer just weeks away, it's the perfect time to ask yourself if your brand is creating enough seasonal and holiday themed content. Below, we break down our favorite Father's Day gift guides by Godiva, All Things BBQ, and Johnnie-O.
Godiva
This is a great example of a shop-by-personality buying guide. With a curated list of different types of dads, coupled with the perfect item for each, it takes the guesswork out of shopping. It's also instantly recognizable as a Godiva experience – the graphics, images, and playful copy contribute to a memorable and delightful brand experience. Integrated shoppability makes the purchase process quick and painless; simply click to activate a quickview and add instantly to your cart. Godiva's experience makes their shoppers' lives easier, which makes it a home run.
All Things BBQ
Buying guides should do more than help customers make their shopping decisions; they should provide plenty of upsell opportunities as well. That's why we love All Things BBQ's Father's Day gift guide. Their curated selection of products complement each other perfectly. Think Dad would love a spatula engraved with their favorite sports team? Well, then you have to get them a chef's apron that while you at it! The upsell never feels forced, and customers can finish all their Father's Day shopping in one place, no searching required.
Johnnie-O
We love how this experience has a "John's Picks" section. Shoppers want to feel secure in their purchases, so knowing these items were hand-selected by a pro gives them the confidence to convert. There's no doubt that their father will love every product in this buying guide because it's coming from the brand founder himself. The additional product carousel in this experience is perfect for the last-minute shopper who doesn't have time to search through product grids.
Holiday and seasonal content are great ways to boost engagement among shoppers while making it easy for them to buy. Whether it's Cyber Monday or Mother's Day, customers will always appreciate a seamless and entertaining path to purchase.