Interactive Content Spotlight: Laura Ashley, Anthropologie, Revlon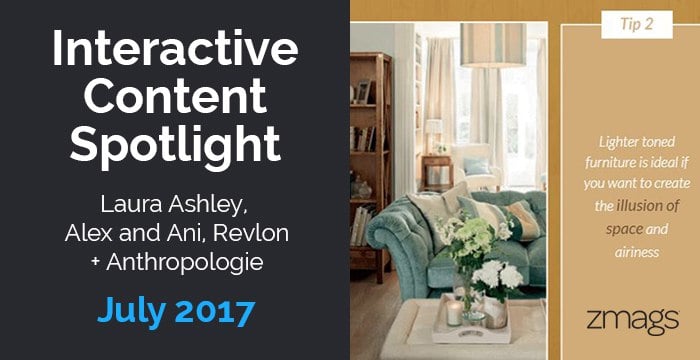 Sharing perspectives on the latest trends and tips to help eCommerce brands stay ahead to engage and drive revenue.
Check out the latest installment of the Interactive Content Spotlight, a monthly roundup of the coolest and most cutting edge eCommerce content from around the web. Enjoy!
Laura Ashley - Dark or Light
What it is: A how-to buying guide
Why we love it: Furniture is an industry vertical that greatly benefits from tutorial content. Shoppers want inspiration when buying products for their home, especially since it can be so difficult to visualize how the final room will look. Laura Ashley capitalizes on this with their latest styling guide. Shoppers receive tips and tricks for styling their rooms, but what makes this experience so impactful is how users can switch between views depending on their furniture shades and finishes. Laura Ashley takes a very specific customer concern – "How can I design my room around my furniture?" – and turns it into a complete engaging experience.
What it's missing: The purchase process abruptly takes shoppers out of this fantastic experience to a product grid. By making the images clickable with activated quickviews, customers can purchase as they go and continue exploring.
Anthropologie – Essential Oils
What it is: An educational buying guide
Why we love it: Shopping online for skincare can be frustrating, but rich, educational content is the solution. Anthropologie turns a physical product like essential oils into a visual experience with beautiful graphics, engaging gifs, and helpful tips. Despite never touching or smelling the oils, shoppers can feel confident in their decision because of how dynamic this experience is. We love how every oil option has its own graphic, distinctly unique and paired with a helpful product description. It's a perfectly on-brand experience that encapsulates the Anthropologie style and message.
What it's missing: User-generated content is powerful because it comes from fellow shoppers, not faceless marketers. Including UGC would give customers that final push to add to cart, and offer additional information from real people.
Alex and Ani – Personal Blueprint Guide
What it is: A personalized quiz
Why we love it: Alex and Ani has made a name for itself by expanding beyond jewelry into a lifestyle brand, so it's fitting that their content has done that as well. Through an interactive quiz, shoppers can not only discover what products fit their personality, but other fun facts like their zodiac sign, birthstone, or even their numerology. This is a great example of a brand knowing their customer well, and delivering content that is perfectly crafted for their interests. And because the results and corresponding product options are so personalized, the experience can create and strengthen the brand relationship.
What it's missing: The quiz itself is fun and engaging, so scrolling down to a stale product grid doesn't quite match it. A carousel slider would serve up the jewelry options in a more visually appealing way, and clickable quickviews enable instant shoppability for a customer that is already excited about the content.
Revlon – Trending Now
What it is: A video cosmetics guide
Why we love it: Revlon does a great job delivering one of the most common forms of rich content: embedded video. Users are provided a step-by-step visual guide to four distinct makeup looks, featuring the latest in beauty trends. From cat eyes to matte lips, viewers can follow along and recreate the looks on their own. And by partnering with well-known beauty, fashion, and lifestyle website Refinery29, shoppers know they are getting expert advice.
What it's missing: While the experience does call out the products they are using, there is no way to learn more about them, or to purchase them. Featuring a shoppable buying guide with all the products that are used would launch these videos to the next level.