Interactive Content Spotlight: Cosabella, LOFT, Crate & Barrel + More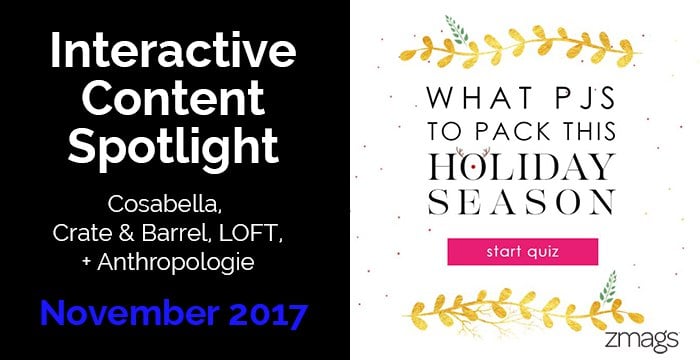 Sharing perspectives on the latest trends and tips to help eCommerce brands stay ahead to engage and drive revenue.
Check out the latest installment of the Interactive Content Spotlight, a monthly roundup of the coolest and most cutting edge shoppable content examples from around the web. Enjoy!
Loft – The Gift It Up Guide
What it is: An instantly shoppable gift guide
Why we love it: This experience has something for absolutely everyone on your list: from your little sister to secret Santa, Loft's buying guide makes holiday shopping seamless. The page is easy to navigate, with internal linking, while integrated quickviews allow shoppers to buy as they browse without ever leaving the page. But what really sets it apart are the little details, like roll-over animations and gifs. They're subtle, but they make the experience engaging and fun.
What it's missing: To add a little extra something, and take the fun and whimsy of the page to the next level, we recommend adding a video element to this experience. Embedded videos let fashion shoppers see the clothes from all angles, giving them that extra push to buy.
Cosabella – What PJs to Pack This Holiday Season
What it is: An interactive quiz ending in a buying guide
Why we love it: For holiday shopping, there is nothing more efficient or impactful than a quiz. Quizzes take the guesswork out of shopping, guiding customers right to the perfect products. And we love this holiday quiz from Cosabella because of its unique goal: finding the perfect pair of pajamas for this holiday season. Whether shoppers are going to their in-laws or staying cozy with friends, this experience has exactly what they need. And with integrated quickviews, consumers can add an item to their shopping cart without leaving the experience.
What it's missing: This experience is already a home run, but for some added fun, we'd love to see animations or gifs added to the quiz. These features make content dynamic, and keep shoppers engaged with the page.
Anthropologie – A Very Merry Home
What it is: A holiday gift guide featuring home goods
Why we love it: Holiday shoppers are notoriously time-strapped, so experiences that make gift selection easy are always appreciated. This gift guide does just that- it's bright, fun, and is sure to make holiday shopping easier. As part of a series of buying guide, this experience focuses on the merry-maker on everyone's list. And with subtle gif animations, the page feels festive and dynamic.
What it's missing: Most of the products are featured in separate product grids – featuring them in sliding carousels with quickview capabilities would keep shoppers from leaving the experience.
Crate & Barrel – Christmas Tree ideas
What it is: An inspirational and visual buying guide
Why we love it: This experience uses rich images to show shoppers three ways to decorate the home for Christmas. What makes this buying guide so impactful is how it uses beautiful images to generate holiday inspiration. Customers can see exactly how to re-create the décor for themselves, allowing them to visualize how they will look in their own home. And as a final touch, short copy blurbs provide tips and tricks for additional inspiration.
What it's missing: Shoppers will likely want to purchase everything they need to recreate each room. Adding quickviews will allow them to do so quickly, without leaving the experience.