Online Shopping Trends|Shoppable Content
New Interactive Content Types For 2019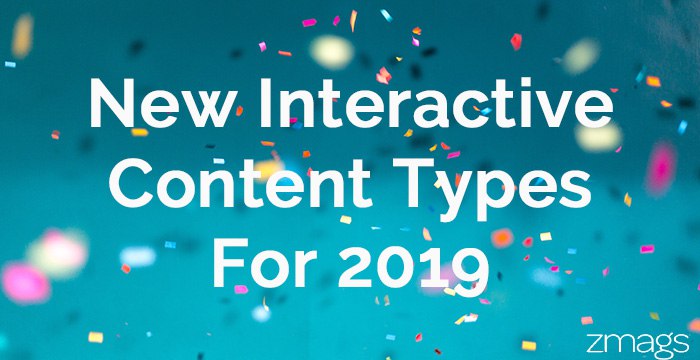 Edek is the Director of Enterprise Sales and Strategic Partnerships with an expertise in guiding eCommerce and retail companies to effortlessly create shoppable digital experiences.
Every digital marketer is looking for the best types of interactive content. While blogs, white papers, case studies, and eBooks are all great staples for generating leads but we're all aware of the increasing demand for new interactive content. Dynamic web experiences are now key for creating a brands vision to life while generating greater overall value for a company. This year, new interactive content types are being discovered to increase website activity.
Interactive Timelines
Timelines are a new interactive content type that can increase your brand's story. Many companies are using dynamic timelines to create visual aids of companies' histories. This allows users to go back in time (or the future) and understand the values and ideas of your brand. Other ways to use interactive timelines are highlighting the history of a topic related to your product or, for many retailers, showcasing predicted style trends in upcoming seasons.
Interactive Maps
This type of new interactive content type lets you showcase locations in a fun, eye-catching way. Why would a retailer use an interactive map? You could geographically map how your brand sources your fabrics and manufacturing. This idea shows your users and customers that your brand is transparent with how your product development is sustainable. Outside of retail, travel agencies can create interactive itineraries on these maps to really create a storyline for curious prospective travelers.
Augmented and Virtual Reality
Research conducted by the International Data Corporation (IDC) found that AR and VR will gross $20.4 billion this year. Retail will be one of the leading verticals to adopt this new technology. With the pressure to create creative experiences for shoppers, the retail industry is trying to find new ways to connect with their audience in unconventional ways. The AR and VR revolution will create a "try before you buy" atmosphere allowing customers to have the experience of shopping in person without ever leaving their homes
Web Sliders or Parallax Scrolling
It may seem not needed but adding active sliding features increase the visual stimulation of a customer. Writer for iMPACT, Christine Austin remarks "Web users have become accustomed to scrolling down the page to get that absolute last piece of information. Google also prefers websites that have longer session durations, and one of the more likely ways to accomplish this is to entice visitors to scroll by creating unique experiences."
Facebook and Instagram Live
Listen, 48% of millennial watch videos only on their mobile device. Video marketing is a thing now. Us, Gen Xers consume it all from Facebook or Instagram Live to a Snapchat or Instagram story. In fact, one study found that Facebook videos outperformed YouTube by 478%, and another one proved that Facebook native videos have up to 86% higher reach!
According to AdEspresso by Hootsuite, "On a daily basis, Facebook videos receive 8 billion video views, amounting to 100 million hours watched per day." With this new platform, brands have a massive opportunity to place their companies front and center to highly specified targeted audiences.
Do you have any other ideas for new interactive content? Comment below!