Interactive Content Spotlight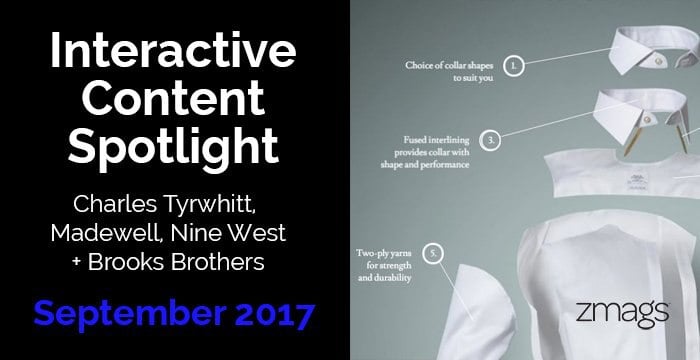 Sharing perspectives on the latest trends and tips to help eCommerce brands stay ahead to engage and drive revenue.
Check out the latest installment of the Interactive Content Spotlight, a monthly roundup of the coolest and most cutting edge ecommerce content from around the web. Enjoy!
Charles Tyrwhitt – Non-Iron Shirts
What it is: An educational guide to Charles Tyrwhitt products
Why we love it: This is a fantastic example of an educational experience. It breaks down one of their hallmark products – the non-iron shirt – in a rich and visually creative way. The experience maps out every feature of their shirt (from buttons to cuffs to collar) making it easy for shoppers to learn about their products. It's intuitive to navigate and brings a surprising element to the experience. Customers can feel confident in their purchase because the experience is so thorough. And with integrated quickviews, shoppers simply click a plus sign to activate an eCommerce-enabled lightbox to add to cart.
What it's missing: We recommend adding dynamic elements to add interactivity. Online users often expect to be able to click and interact with the page, and it's powerful when brands keep up with that expectation. From gifs to animations, these features would keep shoppers even more engaged with the experience.
Brooks Brothers – House of Z
What it is: A brand storytelling experience
Why we love it: This experience tells a rich brand story, exploring Creative Director Zac Posen's work at the brand as well as his upcoming documentary. The content takes shoppers behind the scenes and strengthens the brand relationship as they learn more about Posen's personal journey. This experience features an embedded video and sliding carousel to deliver impactful content. For loyal Brooks Brother's customers, it provides delightful insight into their favorite brand; for new customers, it's the perfect introduction.
What it's missing: The experience includes Brooks Brothers' products, but there is no way to add them to the shopping cart without being directed to a product grid. Instant shoppability through quickviews would enable shoppers to buy as soon as inspiration strikes.
Madewell – Your Pics
What it is: A user-generated content experience
Why we love it: Madewell uses their own customers' Instagram posts to bring their products to life. Shoppers can choose between different hashtags - #everydaymadewell, #totewell, etc. – to see how other customers are styling their Madewell products. Not only does this experience provide endless styling inspiration from fellow consumers, but most of the Instagram posts are shoppable. Simply click a post to activate a lightbox with additional details, including the actual products featured.
What it's missing: We love how shoppers can buy the products that are included in this experience, but to do so they are taken away from the page. This means there's less of a chance they'll return to the experience, and if they do, they've likely lost their place. Making the lightboxes eCommerce-enabled would add instant shoppability, and allow shoppers to continue exploring.
Nine West – Stand Out
What it is: A behind the scenes multimedia buying guide
Why we love it: This experience provides inspiration by taking shoppers behind the scenes of a fashion photoshoot. A video, Q&A interview, carousel slider, and static imagery make this experience truly immersive. Shoppers can see how to style the footwear for themselves, while learning more about the brand and the model. And with integrated quickviews, they can add products to their cart instantly, without ever leaving the experience. There's so much to explore, and the diverse content types keep the experience fresh and dynamic.
What it's missing: We love how inspirational this experience is, but it can be hard to imagine what footwear will look like on a real person, not just a model. User generated content would allow customers to see how real people style the shoes, giving them the confidence to convert.