Content Spotlight: Laura Ashley, Tommy Hilfiger, Burt's Bees, and More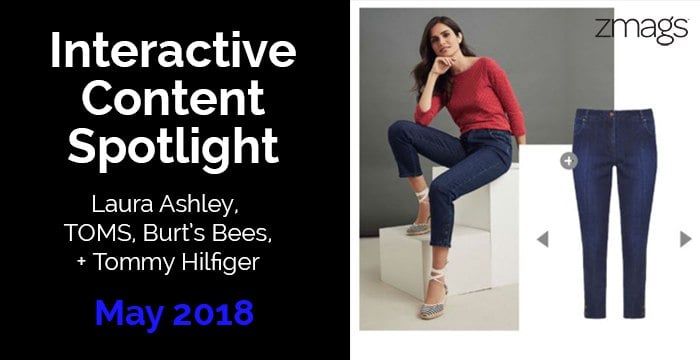 Sharing perspectives on the latest trends and tips to help eCommerce brands stay ahead to engage and drive revenue.
Check out the latest installment of the Interactive Content Spotlight, a monthly roundup of the coolest and most cutting-edge rich visual content marketing examples from around the web. We hope you are inspired and come away with some stellar content marketing ideas to implement next. Enjoy!
TOMS – Venice Collection
What it is: A long-form curated collection experience
Why we love it: This experience brings TOMS' newest collection to life. Rich, vibrant imagery, gifs, rollover effects, and video keep the page exciting and engaging. Shoppers have plenty to explore and play with, and are therefore encouraged to continue scrolling down the page and hopefully continue shopping. What makes this content example so impactful is how it perfectly reflects the TOMS brand identity; it's fun, delightful, and trendy. Good content should always be an extension of the overall brand personality, and when it is, it's easy for customers to engage and convert.
What it's missing: To keep this page from veering too far into product grid territory, we recommend featuring some of the shoes in sliding carousels. It's a small way to break up the grid, and get shoppers interacting with the content. Ultimately, the more time customers spend clicking through an experience, the higher the engagement metrics.
Burt's Bees – Lip Shade Finder
What it is: A long-form quiz
Why we love it: Purchasing makeup online can be nerve-wracking for shoppers; they can't physically test a product out, meaning there is always the risk that it won't be quite right. But online quizzes can alleviate this uncertainty. Burt's Bees' lipstick quiz asks a comprehensive set of questions to guide customers towards the perfect lip shade for their unique skin tone. Customers can feel confident that they are making the correct choice, and will be more likely complete the purchase.
What it's missing: Changing the quiz format from a long-form page to a series of changing scenes, with one question appearing at a time, will keep the experience streamlined and easy to navigate. We also recommend adding more content to the final landing page as well, whether it's application tips or user-generated content. The more content is on a page, the better the SEO rankings.
Laura Ashley – The Trouser Style Guide
What it is: A long-form buying guide
Why we love it: This experience's impact comes from its inspiration, as well as its effortless navigation. Shoppers click through sliding carousels to not only see a variety of trouser styles, but to transition between outfit inspiration as well. Online consumers expect everything to be clickable, so providing this user experience so creatively exceeds their expectations. The rich photography allows customers to see exactly how every pair of pants can be styled with other Laura Ashley items. And short text blurbs provide expert styling tips shoppers can trust.
What it's missing: We recommend adding "shop-the-look" functionality to encourage upsells. By adding quickview functionality to every item featured in the outfits, shoppers can easily and quickly make more purchases at once, and bring their inspiration to life. Providing these easy upsell opportunities are a simple way to improve average order value.
Tommy Hilfiger – The Adaptive Collection
What it is: An interactive buying guide
Why we love it: Tommy Hilfiger celebrates their new inclusive collection with this rich and engaging long-form experience. Dynamic elements like clickable animations, video, and sliding carousels keep shoppers exploring the page, increasing engagement metrics. Because the fashion being sold is so practical, the experience informs as well as inspires, so shoppers can feel confident making an online purchase. Simply click a plus sign to learn more about a product, without ever leaving the page.
What it's missing: To allow customers to convert quickly and easily - and to improve conversion rates - we recommend integrating quickviews into the experience. With one click, shoppers can add an item to their cart and continue exploring the page.