Ecommerce Best Practices|Online Shopping Trends
Ten Years and Counting: A Decade of Retail Content Marketing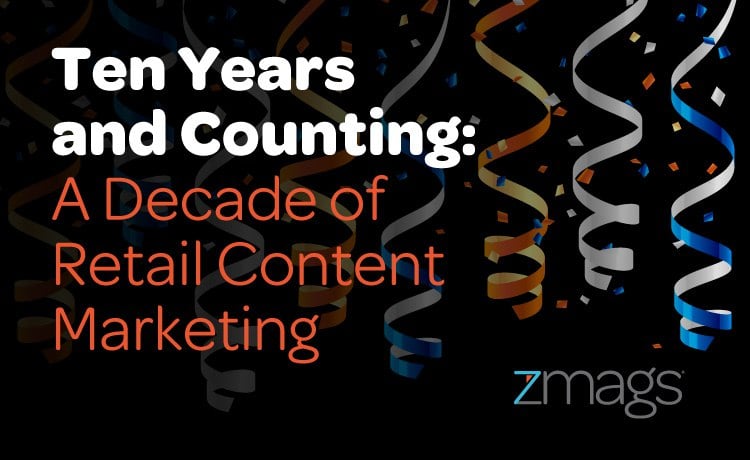 Sharing perspectives on the latest trends and tips to help eCommerce brands stay ahead to engage and drive revenue.
What a difference a decade makes! Ten years ago, in a pre-iPhone world, Zmags emerged from Copenhagen as an online publishing platform. Since then, we have transformed into a top-tier shoppable content eCommerce company and our products are used by over 1,500 of the world's leading brands.
From Neiman Marcus to Ethan Allen, and from Marks & Spencer to New York & Company, our clients have created nearly 1 million digital experiences, showcased more than 250 million page views monthly. Not too shabby, right? We've also grown from two founders to a team of over 50 hard-working and dedicated employees, spanning three countries. And we've been busy, too. Our headquarters moved across the Atlantic to Boston, home of clam chowdah, duck boats, and the Red Sox.
Publicator was released in 2007, and its sibling Creator followed in 2015. With these two tools, our customers now have unprecedented digital retail capabilities without needing to write a single line of code. Zmags isn't the only thing that's changed; the retail industry is in the midst of its own revolution. In 2005, 40% of US citizens shopped online, with ecommerce representing 2.8% of retail sales. In 2007 alone, online retail sales grew 31% across France, Germany, Italy, the Netherlands, and the U.K. Today, 78% of Americans and 53% of Europeans shop online. And mobile purchases now account for 29% of US and 34% of global eCommerce transactions.
As the online retail industry evolves, Zmags evolves with it, staying on the cutting edge of eCommerce innovation and consumer needs. Our first ten years have seen a true transformation, with Zmags leading the way in shoppable content and engaging digital experiences. We are committed to delivering rich media content that any marketer can create, and that's why we are trusted by retail's top brands. There's no doubt that Zmags is in its prime, and we're just getting started. We're thrilled to celebrate our 10th anniversary in 2016, and here's to many more.