Content Spotlight: Michael Kors, Clarins, Charlotte Tilbury, + Target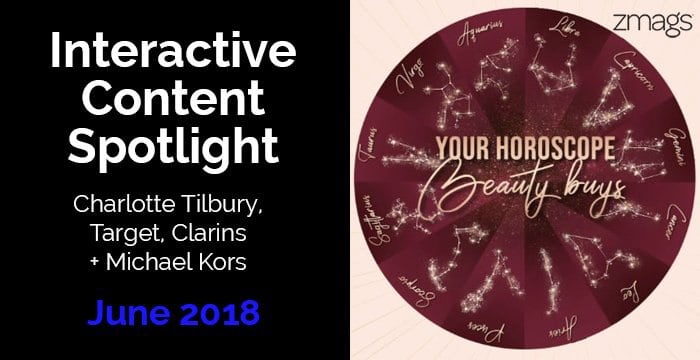 Sharing perspectives on the latest trends and tips to help eCommerce brands stay ahead to engage and drive revenue.
Check out the latest installment of the Interactive Content Spotlight, a monthly roundup of the coolest and most cutting-edge rich content examples from around the web. We hope you get some ecommerce content inspiration. Enjoy!
Michael Kors – Destination Kors
What it is: A complete vacation guide Why we love it: This digital experience is a great example of brand authority done right. The purpose of the experience isn't immediate conversions, because there's nothing to purchase. The focus is on providing useful and interesting information on a popular vacation destination. In the absence of purchase pressure, shoppers can enjoy learning about Portugal, and connect with the brand in the process. Ultimately, this sort of brand experience influences customer loyalty, and can influence long-term revenue. What it's missing: Because there are no products featured to purchase, we recommend giving shoppers something to interact with to keep them engaged. A video, sliding carousel, or UGC gallery of customers' vacation pictures would keep shoppers interacting with the page.
Charlotte Tilbury – Your Horoscope Beauty Buys
What it is: A horoscope-based buying guide Why we love it: This is a unique guided selling experience that wows. Shoppers can discover their own astrology forecast for the upcoming month, as well was personalized products chosen specifically for them. What makes this content so strong and engaging is how distinctly fun it is. Customers can take their time exploring, and because there's so much to discover, they'll be sure to spend more time on page. What it's missing: To make navigation easier, we recommend hotspotting each horoscope in the header, so with a single click, shoppers can activate a lightbox with their specific horoscope sign and product recommendations.
Johnnie-O – The Gift of Grooming
What it is: A Father's Day buying guide Why we love it: Holiday-focused experiences are so successful because they provide guidance right when shoppers need it – or sometimes, before they even realize they need it! They take the guesswork out of buying gifts or preparing for a family dinner, and ultimately make shoppers' lives easier. We love Johnnie-O's Father's Day buying guide because it makes gift shopping effortless. Customers can even easily click to switch between dad personalities to find the perfect item. What it's missing: This is a fun and interactive experience, so it's imperative to keep shoppers on the page so they can continue to explore and buy. Quickviews allow customers to simply click to active an eCommerce-enabled lightbox, enabling them to add a product to their cart instantly.
Target – #TargetStyle
What it is: A user-generated content experience Why we love it: Target does a great job providing inspiration and purchasing motivation with their user-generated content experience #TargetStyle. Shoppers can peruse through real-life customers' Instagram photos, seeing how the products look in real life while getting inspiration in the process. There's no one customers trust more than other customers, so allowing them to engage and explore other customers' content provides a strong reason to buy. What it's missing: To add some interactivity to this experience, we recommend including rich video content. Videos add a storytelling element to content that complements user-generated content nicely, and keeps the page engaging and dynamic.