Marketers Say Rich Media Is Critical to Gaining Consumer Attention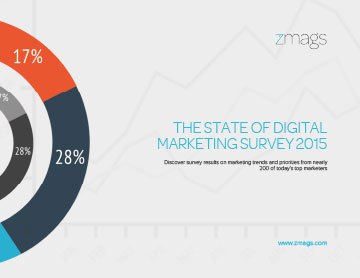 Sharing perspectives on the latest trends and tips to help eCommerce brands stay ahead to engage and drive revenue.
BOSTON — August 4, 2015 — Content marketing technology specialists Zmags today revealed the results of its State of Digital Marketing Survey 2015 which indexed the attitudes of online marketers at 200 blue chip retail companies. The survey looked at four critical areas affecting the delivery of online marketing experiences: factors in creating digital experiences, biggest challenges for marketers today, most important technologies for engagement, and time to market.
Brian Rigney, CEO at Zmags said, "Our State of Digital Marketing survey clearly shows that online marketers are simultaneously pressured in two ways — the need to create rich content experiences online and the lack of time, resources and tools with which to create and launch them." The headline statistic is that 49 percent of the respondents indicate that content — creating rich media experiences — is the most critical factor in getting consumer attention. Content was considered more important than all other key factors including:
Context – delivering the right message at the right time, 20 percent
Omni-channel – delivering content across multiple channels and devices, 17 percent
Ease of purchase – making it easy for consumers to buy, 9 percent
Speed – getting experiences to market fast, 5 percent
While the need for rich, engaging content is clearly a priority, 40 percent of respondents feel challenged by a lack of time in creating those experiences. Other challenges included dependency on agencies or third-party IT companies (23 percent), the need for stronger technical skills and knowledge (22 percent) and a lack of the right tools or technology (15 percent). Elsewhere, the survey indicates that nearly a quarter of marketers (24 percent) are taking a month or more to launch online campaigns.
"In a fiercely competitive sector, it is essential to employ the tools that allow marketers to easily create and deploy to their website rich digital, e-commerce-enabled experiences such as lookbooks and product campaigns," added Rigney. "Moreover, bringing experiences to market as quickly as possible has become critical to freeing up time to respond to market trends and fluctuations in inventory levels or to create promotions — all absolute success factors as the preparation cycle begins for the holiday period."