Zmags Creator for Magento Makes Content Instantly Shoppable for Retailers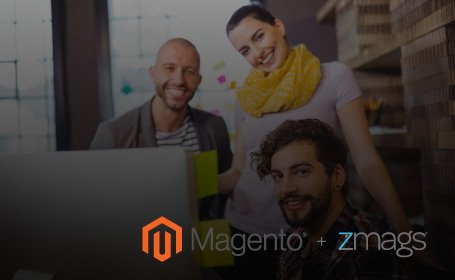 Sharing perspectives on the latest trends and tips to help eCommerce brands stay ahead to engage and drive revenue.
BOSTON — July 13, 2016 — Zmags, the shoppable content company, today announced that Creator for Magento empowers retail creative teams to make content instantly shoppable with a single click. While Magento ecommerce platform customers have always been able to scale their online businesses with rich native functionality, Zmags Creator for Magento gives retailers the autonomy to create rich brand experiences for their customers without coding. Retailers of all sizes — from big brands to boutiques — are zeroing in on using engaging content for competitive advantage and to foster loyalty among customers. Yet, most retailers do not have the resources or bandwidth to consistently produce a high volume of rich, interactive content in a timely, market-responsive way due to the heavy burden of coding that is traditionally required. From fashion to home goods to cosmetics, Zmags Creator changes this digital paradigm for retailers by delivering a shoppable content platform to create and rapidly publish digital experiences without writing a single line of code. "Many Magento retail customers are using Zmags Creator for Magento to design and scale rich content without coding — something they can't do with Magento alone," explains Brian Rigney, CEO of Zmags. "This translates to increased customer engagement, average order values and conversion rates." Magento customers like Tibi, Murad, All Things BBQ, Boathouse Stores, Deborah Lippmann, and Wedgwood are some of the retailers using Zmags Creator for Magento to give their customers an engaging brand experience — all without coding. Below are recent campaigns that show how easy it is for retailers to quickly and easily create unique content specific to each holiday or season and make it shoppable with Zmags Creator for Magento.
Tibi's On The Street campaign mixes high-fashion runway creative with guided selling, user-generated content, and even shoppable imagery.
Murad produced a summer Invisiblur skincare guide blending embedded rich imagery, video tutorials, pro tips, user reviews, and related products that feels like a professional cosmetics expert sharing advice within a one-stop-shop experience.
All Things BBQ created a Father's Day Gift Guide with a video of its CEO helping customers select the perfect gift for dads through ecommerce-enabled imagery.
Boathouse Stores' Magento content has increased dwell time and engagement significantly and netted the fashion retailer a 2015 Customer Engagement Award.
Iconic celebrity manicurist Deborah Lippmann leverages her company's user-generated content so that customers of its products experience the same inspirational and instantly shoppable benefits onsite as they do offsite.
Wedgwood knows that brides are bombarded with a plethora of information to digest and assimilate in creating the wedding of their dreams. To ease the planning process, Wedgwood presents a Bridal Inspiration visual guide showcasing products in distinct bridal styles like the Forever Romantic, the Modern Muse and the Classic Beauty to help brides-to-be choose cohesive elements for their big day.
Zmags Creator for Magento
Zmags Creator for Magento empowers retail creative teams on the Magento platform to link their content to product quick views with one click, making them instantly shoppable. Instead of coding each product quick view into a content page, Zmags enables creative teams to link any part of an image directly to their product quick view by simply searching for and selecting the product to display from within Zmags Creator for Magento. The flexibility of Zmags Creator for Magento allows retailers to use multiple quick views in a single content experience without any customization or coding. Making content shoppable in this way shortens the path to purchase and increases engagement. As a result, retailers are seeing higher conversion rates on their rich content, all delivered without the need for custom development by the IT department.