Zmags Deepens Leadership Team to Drive Product and Platform Innovation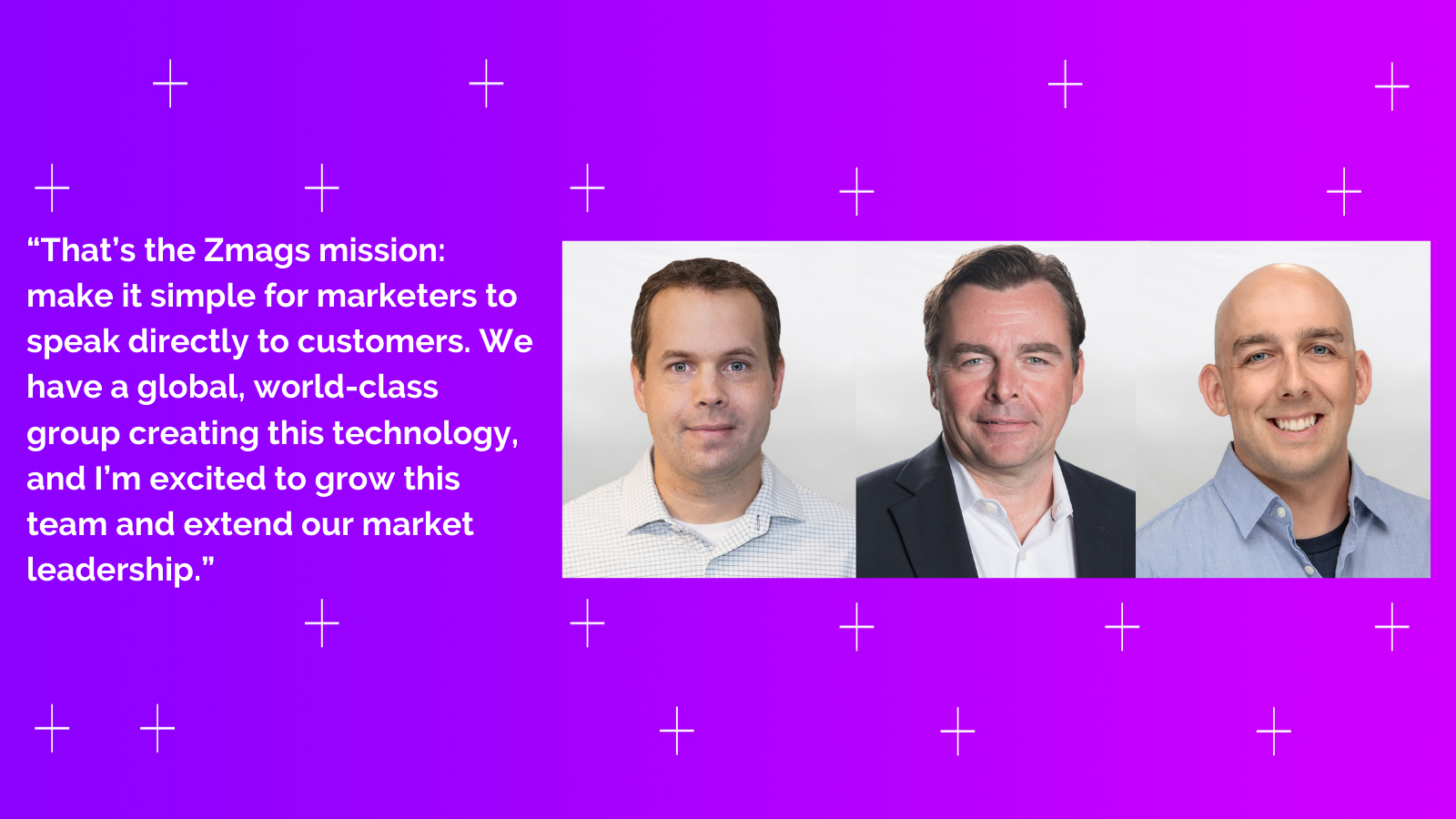 Justin is the Vice President of Marketing at Creator by Zmags. His focus has been on creating unique brand experiences and developing growth strategies.
April 26, 2021 | Boston, MA -- Zmags, revolutionizing how consumers experience digital commerce everywhere, today announced that Ryan Breen has joined as Chief Technology Officer (CTO). The addition of Ryan marks the significant expansion of Zmags' leadership team which includes Paul Zymba, Senior Vice President, Customer Success; and Justin McCoubry, Vice President, Marketing. These new executive leaders will play a vital role as Zmags continues to see accelerated demand for its digital experience offerings for marketers and eCommerce professionals.
"I am thrilled to welcome Ryan, Paul, and Justin to the Zmags team," said Zmags CEO, Dave Powell. "Their combined experience in scaling high performing teams in tandem with our industry leading technology, accelerates our ability to innovate and provide a valuable platform for our customers."
Ryan Breen

brings two decades of experience to his role as CTO. Throughout his career, he's scaled successful high-growth SaaS businesses, building teams and products in fields ranging from web application performance management to mass communication and mass production. Ryan was previously the Director of API Management at Cimpress, the parent company of Vistaprint, where he oversaw the growth of the foremost SaaS platform in the Mass Customization industry. Previously, Ryan served as Chief Architect of Everbridge where he designed a mass communication platform with the most mission-critical requirements imaginable, and as co-founder and Chief Architect of CloudFloor, an early innovator in multi-cloud workload optimization. Earlier in his career, Ryan was widely recognized as the leading authority on web application performance management, when he served as VP of Technology at Gomez, a web performance and experience management company. Ryan is a Duke University graduate and holds 7 US patents.
Paul Zymba

joins Zmags with an expertise in building out high-performing consulting, support, and customer success organizations in the technology and SaaS sectors. Paul is coming off a successful tenure at Galvanize, where he led the entire global post-sale spectrum and scaled a dynamic customer success team. Previously, he held senior vice president roles at Medix and Veracode where he was responsible for global professional services, which encompassed Consulting, Customer Support, Service Delivery and Customer Success Management. During his time at Veracode, Paul designed a Customer Success Program that earned the company recognition in a 2013 Gartner Magic Quadrant report.
Justin McCoubry

as Vice President, Marketing brings a background in growth marketing for Boston-based startups and building SaaS and technology brands. Most recently, Justin led North American Marketing at Egress, a cybersecurity company. Previously, he was part of the growth marketing teams at Care.com and Carbon Black on their paths to IPO.
After

recently announcing

the close of a majority investment round from Akmazo Capital, Zmags is quickly expanding its team to meet the demand for its Creator™ platform. Creator enables marketers to accelerate eCommerce through rich digital experiences at a fraction of the time and cost of traditional coding.

"I'm passionate about products that give people power they didn't have yesterday," Ryan commented of his new role. "That's the Zmags mission: make it simple for marketers to speak directly to customers. We have a global, world-class group creating this technology, and I'm excited to grow this team and extend our market leadership."

Ryan comes to Zmags via Akmazo Capital's Executive-In-Residence program, which aims to match exceptional executives with growth-state SaaS companies in the New England area to accelerate operating results and provide opportunities for growth.