Brahmin Increases E-commerce Transactions 111 Percent with Zmags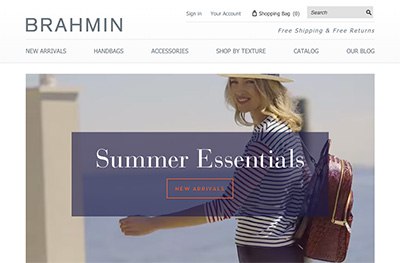 Sharing perspectives on the latest trends and tips to help eCommerce brands stay ahead to engage and drive revenue.
FAIRHAVEN, Mass. and BOSTON — June 30, 2015 — Content marketing technology specialists Zmags today announced excellent results from the deployment of its content marketing platform, Creator, with high-end handbag and accessories retailer Brahmin. Alison Katz, director of direct-to-consumer at Brahmin, said, "By using Zmags Creator, Brahmin has more than doubled its click-through rate and is driving more online revenue as a result. We are earning a 20:1 return on our investment." With Creator, Brahmin was up and running in less than 24 hours — creating rich, interactive Web experiences, including home page promotions, lookbooks, feature graphics, banners, video galleries and more. Freed from the limiting templates and lead times of its old solution, Brahmin now enjoys more creative freedom and is able to measure and optimize campaigns on the fly. While typically a substantial e-commerce build or update might take a month or more, full HTML5 campaigns can be live within a few hours, accelerating time-to-market and removing the burden of IT costs. Based on an intuitive experience canvas that includes drag-and-drop tools, asset libraries and widgets akin to PowerPoint for digital content marketing, Creator dramatically reduces the time and complexity from ideation to publishing content on a website. The result is much higher customer engagement levels — a 50 percent increase in page views during the critical first 10 seconds of a site visit and a 16 percent increase in customer sessions. Overall, the company has seen a 111 percent increase in e-commerce transactions adding up to an impressive 20:1 return on investment. Brahmin now typically updates its website with media-rich, engaging experiences two to three times per month. And the team deploys live updates to the site in seconds instead of days. Now, instead of swapping out graphics, Brahmin can keep the site fresh and engaging by making big, interactive and engaging layout changes with regularity. "Retailers have just moments to attract consumers and immerse them in a rich and transactional shopping experience," said Brian Rigney, CEO at Zmags. "Getting that initial engagement right is mission critical. Brahmin's deployment of Creator exemplifies just how easy it is to build and publish beautiful content and how to keep that process going over time so that its consumers come back again and again." Availability and Case Study The full commercial version of Creator content marketing platform is available today from Zmags. Sign up for a free trial of Zmags Creator here.