New Creator Extension for Magento Commerce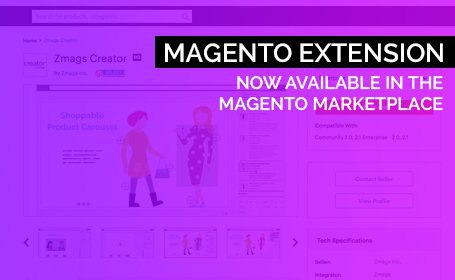 Jessica is an integrated marketing leader specializing in strategic B2B and B2C enterprise solutions.
Using Creator by Zmags on Magento Commerce just got a whole lot easier, thanks to a new extension built by Lyons Consulting Group (LYONSCG) for Magento 2. The extension is now available in the Magento Marketplace. Beginning now, brands that use Creator on Magento Commerce will have access to a light-weight snippet on the platform's header that enables one-click publishing from Creator to the Magento 2 ecommerce platform. Creator is still available to users with a standard implementation on Magento 1. Zmags and LYONSCG announced the new extension this week from Shop.org 2017. Creator by Zmags empowers ecommerce marketers to easily create and quickly publish rich digital experiences in minutes, rather than weeks. The simple interface requires no coding experience or IT involvement. This means that marketers are more nimble; they can manage and test their own website content in response to shopping trends, seasonal holidays, and even pop culture events and hashtags. "The extension elevates the power of Creator by Zmags on the Magento Commerce platform," said Jennifer Kijek, director of alliances at LYONSCG. "Creator is all about making marketers' lives easier and allowing them to publish beautiful and engaging content as quickly as possible, with no IT oversight. The system also opens the door for easier collaboration between third parties and retailers. Now that ease-of-use is only a click away, marketers are better prepared to engage, convert and retain customers using the Magento platform." With LYONSCG's extension, Magento Commerce users will enjoy their existing functionality, like Bluefoot CMS and page builder, and quickly fill Bluefoot created templated pages with rich content such as buying guides, quizzes, lookbooks and videos using Creator by Zmags. "The team at LYONSCG has made Creator even easier to use with Magento," said Cait Porte, senior vice president of product and customer experience at Zmags. "This will greatly benefit the many brands that use Creator on the Magento Commerce platform today. We look forward to seeing what they create and how they use that dynamic, rich and shoppable content to differentiate their brands and deliver stand-out experiences for today's content-hungry consumers." Both Zmags and LYONSCG are exhibiting at Shop.org this week. For information, visit Zmags at booth 943 and LYONSCG at booth 1311, or visit www.zmags.com.