Retailer Boathouse Grows Website Attention by 500% with Creator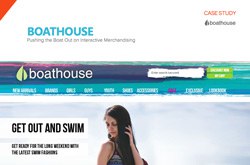 Sharing perspectives on the latest trends and tips to help eCommerce brands stay ahead to engage and drive revenue.
ST. CATHARINES, Ontario and BOSTON — July 30, 2015 — Content marketing technology specialists Zmags today announced initial results from the deployment of its Creator platform with leading Canadian fashion retailer Boathouse.
Marc Schwartz, digital and marketing strategy leader at Boathouse, said, "Typically, we get 30-45 seconds dwell time on normal pages, but this has increased to upwards of five minutes with Creator — so our customer engagement metrics are fantastic. When people saw the site, they started to ask, 'This is Boathouse?' on social media; that's a great reaction from a brand perspective."
Zmags Creator was primarily deployed to rapidly create and launch online merchandising experiences, including lookbooks around specific clothing lines. Immediate results: Boathouse has seen dwell times increase by 500 percent with thousands more site visits recorded in just the first few weeks of deployment, and its conversion rate increased by 85 percent for Zmags Creator campaigns. For any retailer, the challenge is to make merchandising as interactive and rich as possible. New product lines, collections and seasonal changes mean that new campaigns need to be created against quick turn cycles to keep content fresh and customers returning.
For Boathouse, this meant a level of complexity in planning ahead, producing creative assets, coding, bug fixing and publishing that was restrictive. And since all of Boathouse's development work was completed by an external agency, any site updates were time consuming and, above all, costly — usually into the thousands of dollars range. Boathouse wanted a more rapid and easier way for its small team of six people to make changes to its website and to make the site rich and engaging. With Zmags Creator, that is all now possible because it uses simple drag-and-drop tools, widgets and asset libraries to enable the user to quickly build and deploy anything from content sliders to lookbooks and landing pages or to easily animate images and include video.
"I didn't have to spend a lot of time or do any hand holding," added Schwartz. "I asked the designer for specific elements and didn't need the designer to create flat files. I just said, 'give me all the files, and I can compile it myself on-scene' — it was that simple."
Brian Rigney, CEO at Zmags, said, "Today, in-house marketing teams are expected to have an array of skills to bring product-related content to the attention of consumers. Online, this means that the process of creating consumer-focused experiences — that immerse them in beautiful images or video — is both lengthy and costly when marketers use a traditional process. With Zmags Creator, Boathouse has been able to simplify that process, build engagement and realize a quick return on investment."