Zmags Releases Rich Content Survey Findings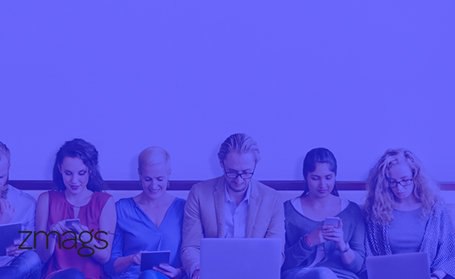 Jessica is an integrated marketing leader specializing in strategic B2B and B2C enterprise solutions.
Zmags, the company that enables digital marketers to create and publish rich content experiences without the need for coding, recently partnered with NAPCO Research to explore how online retailers are challenged to build fresh and engaging digital content.
The research finds that more than three-quarters of retail marketers rank the production of rich content like lookbooks, buying guides, carousels, and user-generated content (UGC), a high priority, but a majority are only developing one or two pieces of this content each month.
According to the survey, " Rich Content: A Land of Opportunity for Retailers," marketers cite the difficulty of content creation, a lack of imagery and assets, and uncertainty of the types of content they should be developing as "pain points" in this process. Respondents said they're most interested in creating curated/themed and non-grid content, like holiday-related content, how-tos, buying guides, and real-time event coverage. However, half of all respondents indicated they don't know the types of rich content they should create or what themes should become rich content.
"It's clear that retail marketers simply don't have the tools, time or inspiration to develop the kind of content that differentiates their brand and drives higher conversion rates. They know they need to do it, but they are often beholden to rigid internal processes and their IT departments to publish new content to their websites," said Brian Rigney, CEO of Zmags. "Today's marketers need more control over content development on their digital properties so they can react to seasonal changes and pop culture trends. They need access to tools they can use to quickly and easily publish and optimize new content. Rich and engaging experiences make or break a brand in the eyes of today's content-hungry consumers, and this data illustrates a serious challenge for retail marketers."
Key findings from the survey include:
Top three "pain points" associated with developing rich content are: (1) It's too labor intensive, (2) we don't have enough imagery/video to produce more content, (3) we don't know the types of rich content we should create
92 percent of retailers believe that rich content provides a positive ROI, but 58 percent are still relying heavily on static imagery when they could be offering more dynamic experiences
Marketers say they'd like to provide more rich content on their sites. Topping their wish lists are:

Curated/themed non-grid content - holiday, how-to, buying guides, etc. (55 percent)
Quickviews (or lightboxes of product detail pages) (42 percent)
Responsive content (38 percent)
User-generated content (38 percent)

85 percent of retailers use their website as a means to distribute content; 68 percent share it on social media and 58 percent share it via email.