Zmags and Boathouse Stores Win Retail TouchPoints Customer Engagement Award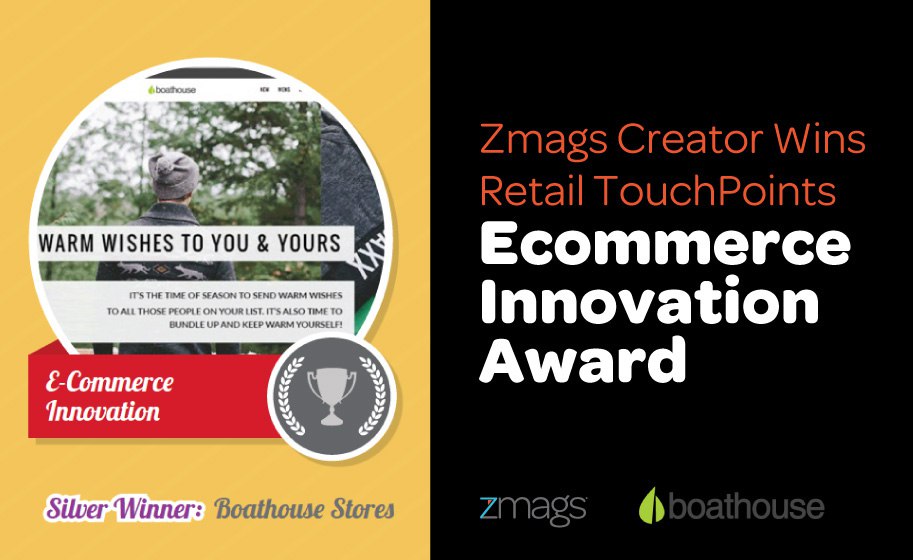 Sharing perspectives on the latest trends and tips to help eCommerce brands stay ahead to engage and drive revenue.
BOSTON — January 5, 2016 – Zmags, the shoppable content company, today announced that Boathouse Stores has been selected as a Retail TouchPoints 2015 Customer Engagement Award winner. The fashion retailer was named a silver winner in the "e-commerce innovation" category in the fifth annual awards program, which recognizes leading retailers that have implemented successful customer engagement strategies. The annual awards program is held to honor retailers using creativity and innovation to deliver on the promise of customer-centricity. A total of 18 winners, from national department store, apparel and electronics chains to highly specialized fashion, lifestyle and gourmet consumable retailers, were recognized in the 2015 awards program.
"As most online retailers know, it can be difficult to quickly and easily make site merchandising rich and interactive in order to capture shoppers' attention," said Zmags CEO Brian Rigney. "However, through the use of Creator, Boathouse Stores was able to solve this problem and saw outstanding results, including increased customer dwell times and frictionless shopping. We're thrilled at Boathouse Stores' success with Creator and with their Customer Engagement award."
Boathouse Stores leveraged the Zmags Creator platform to easily create and rapidly publish shoppable lifestyle images, videos and lookbooks to help customers "shop the look," rather than searching through the standard product grid. After deploying these rich experiences, Boathouse Stores increased its customer dwell time more than six times, from 30-45 seconds to an average of more than five minutes. With customer engagement metrics increasing dramatically, customers also turned to social media when they saw the new site and started to ask, "This is Boathouse?" This clearly validated that the new technology revamped the brand and increased customer satisfaction.
"We're honored that Retail TouchPoints selected Boathouse Stores as a winner for our efforts in eCommerce innovation," said Marc Schwartz, eCommerce and digital marketing lead, Boathouse Stores. "Our goal has been to become a more customer-centric brand, and we've been able to make this a reality with the ability to easily create and quickly launch online merchandising experiences, at the speed needed to quickly and easily introduce new and seasonal products for customers. Our results have shown that customers value the shoppable content and simplified path to purchase."